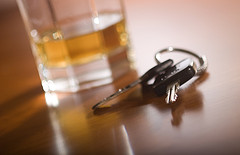 When clients come to our Santa Rosa personal injury law firm, they often talk about both the physical and emotional issues they have faced since their injury. For those who were hurt by a drunk driver, one of the most commonly experienced emotions is anger. This anger increases exponentially in cases where the driver who caused the accident is a repeat drunk driving offender. We understand and, to be honest, share this anger. Statistics and our own experience show that many DUI offenders rack up multiple DUIs, sometimes even causing multiple DUI-related accidents, showing a repeated disregard for their own safety and for the safety of others on the road. We work to obtain compensation for the victims of these repeat offenders and we hope that facing a civil lawsuit, a case that forces them to see the injuries that their behavior caused, leads to a change in behavior and ensures that at least one offender will not drink and drive again.
Weekend Sees Several Arrests of Repeat DUI Offenders
A report in The Press Democrat this week focused on the problem of repeat drunk driving offenders in Northern California. According to the article, the California Highway Patrol ("CHP") arrested multiple individuals for repeat DUI offenses during February's first weekend. Wet roads led to dozens of collisions over the weekend, making the presence of intoxicated drivers even more concerning.
CHP Officer Joan Sloat told reporters that four people were arrested for DUI on Saturday. In brief:
A driver drifted off of Asti Road and crashed through a fence in Cloverdale on Saturday morning. The driver, 31 year-old Kris Beylikjian of Cloverdale, had a blood-alcohol level moe than triple the legal limit. Police located him lying on his back on the fence and placed him under arrest after he was cleared by doctors at an area hospital. Beylikjian was on probation for a prior DUI and was taken to jail for a violation of his probation in addition to the new DUI charges.
Sandra Nieto, a 38 year old Healdsburg resident, failed field sobriety tests after being pulled over on Highway 101 Saturday afternoon when officers noticed her car weaving in the northbound lanes. Nieto was on probation due to a DUI conviction last summer. She was arrested on both a DUI charge and for violating probation.
Officers arrested 25 year-old Brandon McGarry of Santa Rosa following a vehicle registration stop. Records revealed McGarry's drivers' license had been suspended following a DUI conviction and multiple other traffic convictions, including a hit-and-run incident. McGarry failed field sobriety tests and officers arrested him for DUI, violating probation, and driving on a suspended license.
Police also arrested Marco Sevilla after a vehicle registration stop when they found his license was suspended. He had been convicted three previous times for driving without a license and had outstanding warrants on one of those charges and for possession of a controlled substance. He was taken to jail on the warrants, the probation violation, and driving while suspended.
The Disturbing Statistics on Repeat Drunk Drivers
A 2008 Mothers Against Drunk Driving study, reviewed by the Community Anti-Drug Coalitions of America, found that approximately two million drivers had three or more drunk driving convictions, including 400,000 who had five or more convictions. Citing NHTSA estimates, the report noted that approximately a third of the 1.5 million DWI arrests made annually involve drivers with prior drunk driving arrests. California held the top spot for number of drivers with three or more convictions with 310,971, the next highest number was 147,000 in Ohio. Information in an earlier NHTSA study adds weight to these numbers by reporting that intoxicated drivers who had previous DUI convictions were 4.1 times as likely as other drivers to be involved in a fatal crash.
Our Role in the Fight to Stop Drunk Drivers
While progress has been made on many fronts, the problem of repeat DUI offenders demands attention. Combatting the problem will require a partnership between law enforcement, community groups, and alcoholism experts. We believe that advocating for the rights of those injured by repeat drunk drivers can be part of this fight. If you were injured by a drunk driver in Sonoma County or another North California community, call to arrange a free meeting with our Santa Rosa drunk driving accident attorney. Together, we can fight for your rights and, hopefully, teach the defendant a lesson that will keep him or her from ever drinking and driving again.
See Related Blog Posts:
The Threat of Drunk Driving Deaths in California and Nationwide
Drunken Driving by the Numbers: a Sobering Set of Statistics
(Photo by James Palinsad)