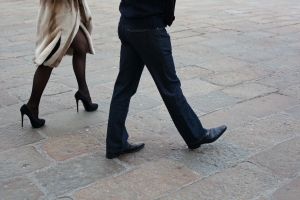 Since Sunday, it has been a deadly week in the Bay Area for pedestrians who have been hit by motor vehicles, with fatalities in San Francisco, San Jose, Alameda and Sebastopol, and life-threatening injuries for a boy in San Francisco. The rash of deaths and severe injuries has several community advocates as well as San Francisco pedestrian accident attorney Gregory J. Brod hoping that the spate of bad news is not a trend that is sustained through the rest of the year and calling for measures to improve pedestrian safety.
Late Sunday night, a man was struck and killed on Van Ness and and Golden Gate avenues near City Hall in San Francisco. The death was the seventh recorded in San Francisco in 2014, in spite of the fact that the San Francisco Police Department has stepped up its issuing of traffic citations through the first three months of this year in an attempt to curb the uptick in pedestrian deaths in the city.
Wednesday was a particularly deadly day for pedestrians in the Bay Area, with one fatality in San Jose, another in Alameda and yet another in Sebastopol.
In San Jose on Wednesday, a man died after being struck on the East Capitol Expressway in an incident that the San Jose Police Department is investigating as a hit-and-run incident. According to KTVU News, Officers arrived on the scene to find the victim mortally wounded after the suspect vehicle struck him and fled the scene.
In Alameda on Wednesday, a woman died on Otis Drive in front of the South Shore Shopping Center while crossing the street after being stuck by a minivan. According to KTVU News, the woman was pronounced dead at the scene.
In Sebastopol on Wednesday, a man taking a stroll on Healdsburg Avenue was struck while in a crosswalk by an automobile. According to the Santa Rosa Press Democrat, the man died in the impact.


And on Thursday in San Francisco's Richmond district, a 3-year-old boy who was either walking or riding his bicycle in a crosswalk at Fulton Street just outside Golden Gate Park was struck by a light truck, according to the San Francisco Chronicle. The boy, who was run over by the light truck and dragged several feet, was taken to San Francisco General Hospital with life-threatening injuries.
2013 was a particularly deadly year for pedestrians in the Bay Area. In the region's three largest cities, San Jose, San Francisco and Oakland, there were a total of 50 pedestrian deaths, including 26 in San Jose, 17 in San Francisco and seven in Oakland. Unfortunately, those figures dovetail with a trend that has been recorded nationwide: pedestrians have been one of the few groups of people using roadways who experienced an increase in fatalities in the United States in 2011 to 4,432, according to the most recent statistics from the National Highway Traffic Safety Administration.

Community groups and pedestrian safety advocates have called for more traffic-calming measures, and we would add to that a plea to motorists to observe speed limits as well as to pedestrians to exercise caution when crossing a street. If you or a loved one has been injured or worse while a pedestrian in a collision with a motor vehicle, please call the experienced attorneys at the Brod Law Firm for a free consultation.
-James Ambroff-Tahan contributed to this article.
See Related Blog Posts:
With Numbers in, 2013 Goes Down as Deadly Year for Pedestrians in San Francisco
S.F.'s Van Ness Avenue's Reputation for Peril Worsens as Another Pedestrian is Struck, Killed by Motor Vehicle
S.F.'s Newly Announced Safety Measures Are Encouraging, but Pedestrians Still at Risk on City Streets