One of the many things we love about San Francisco is the range of transportation options available to residents. While most commuters probably drive for some or all of their daily commute, plenty of opt for public transit and/or their own two feet. Others swap four wheels for two and commute by bicycle. We are proud to serve as a San Francisco bicycle accident law firm and to protect the rights of those injured in car versus bicycle collisions. In many, if not most, cases, these accidents are caused by an inattentive driver. We absolutely encourage drivers to make sharing the road safely a goal every time they drive. Even though fault tends to rest primarily with the car driver, we also encourage bicycle riders to follow smart commuting practices in order to keep themselves and others safe.
Chronicle Looks at the Most Hazardous Areas for Bicyclists On Wednesday, the San Francisco Chronicle reviewed a study looking at bicycle-vs.-car accidents in the city. The article notes that the city sees 75,000 bicyclists each year, a figure that works out to one in ten people in the city. Bicycling is a healthy commuting option, but sadly accidents involving cars and bicycles leave someone injured or dead, on average, once a day.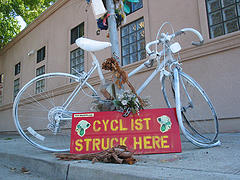 The Chronicle discusses information gathered by Zendrive, a driving safety blog that collected ten years' worth of information using sensors in more than one thousand driver's phones to map out the areas in San Francisco where a bicyclist-vs.-driver crash is most likely. Given that they are among the most popular routes, it is not surprising that downtown, the Mission, SoMa, and the Panhandle/Lower Haight area saw the most accidents. Driving offenses were particularly common in SoMa and the 19th Avenue corridor where drivers often speed and pull out their cell phones to pass the time when they are frustrated by unexpected traffic. For more details on the accident hot spots, see the Zendrive website.
Safety Tips for Cyclists Without question, drivers need to be more attentive. Still, we encourage bicyclists to do everything they can to stay safe. Bicyclesafe.com provides numerous tips for bicyclists including detailed information on avoiding ten of the most common accident scenarios (ex. avoiding a dooring accident and "right cross" collisions).
More general safety tips include using a headlight and stowing phones and music players to help you focus on traffic conditions. The site encourages cyclists to "ride as if you were invisible," avoiding reliance drivers' attentiveness, and always signaling turns to let attentive drivers know your plan. One of the most interesting tips is taking up the whole lane when possible rather than staying to the edge of the road. While this may seem counterintuitive, it helps ensure visibility and prevents both dooring and passing-too-close accidents. The site notes that this tip is more appropriate for some scenarios (i.e. heavily travelled roads with lots of intersections) than others.
An Advocate for San Francisco Cyclists Even the safest cyclist can be hurt or killed by an inattentive driver. If you are hurt in a car-vs-bicycle accident or if a similar crash claims the life of a loved one, please call to schedule a consultation with our San Francisco bicycle crash lawyer. A consultation is always free and contingent fees means most injury clients pay us for our services unless they recover monetary compensation.
See Related Blog Posts:
California Legislature Eyes Adult Bicycle Helmet Requirement California Bicycle Riders' Law Firm Examines Bicycle Accident Statistics
(Image by Sebastien Paquet)