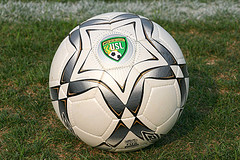 Earlier this summer, sports lovers in America joined those across the globe in watching (and cheering for) a game loved the world over – soccer. While long-popular in other countries, Americans have been slow to embrace soccer, but the game is slowly infecting adults and children alike. As people begin to play the sport, not just watch from the sidelines, soccer injuries and particularly soccer concussions become a growing concern. Our San Francisco sports injury attorney understands the unique contours of sports injury cases. When the injury can be traced to a negligent or even reckless decision by a governing body, sponsor, coaching group, or other entity, we can help the injured recover money damages and prevent future tragic accidents on the field.
Parents File Suit Seeking Changes in Youth Soccer
A group of parents has filed a lawsuit in San Francisco asking FIFA, the United States Soccer Federation, and other major soccer organizations to make changes to keep children safe. CBS Sports explains that the class action suit is looking for changes in policy and practice rather than money damages. The suit asks the soccer groups to improve the way they diagnose head injuries and to change the guidelines as to when a player may return to play following a concussion. Additionally, the plaintiffs are asking FIFA to change its rules on substitutions, allowing more than the usual three per game limit when a substitution is needed to allow for a medical evaluation.
As CBS notes, the danger of concussions in soccer was brought to international attention with this summer's World Cup. Discussions of how to handle head injuries were fueled by the case of Germany's Cristoph Kramer. Kramer continued to play in the final against Argentina despite a blow to the head. After being helped off the field, he admitted that he could not remember any of the first half.
While head injuries affect players of all ages, the pending suit focuses on players under age 17 and the potential impact that concussions may have down the road. Counsel for the plaintiffs emphasizes that needed safety policies have not been enacted despite the fact that the medical community has called for changes for more than a decade. Another spokesperson said that the failure of the organizations to act to protect young soccer players is unacceptable given the "epidemic of concussive injuries" and the advances in medical knowledge and practice.
Soccer Injury Statistics
An article in the journal Pediatrics, published in January 2010, focused on the threat of injuries to youth soccer participants. Across all ages, the authors estimate that 15.5 people participate in soccer in the U.S. and further note that it is one of the fastest growing sports, including among high school athletes. They also note, however, that soccer has a higher injury rate than many other contact sports. In terms of all injuries, 80% impact participants under age 24 and 44% impact those under 15. The concussion rate for soccer is comparable to that for ice hockey and American football. While concussions and other head injuries are listed as accounting for only 3% of all injuries, the authors suggest this may be an issue of underreporting. Most concussions resulted from collisions and not from intentional "heading" of the soccer ball.
Representing Injured Youth Soccer Players and Other Young Athletes
If your child suffered a head injury (or if you did) as a result of playing soccer and you suspect the organization, its rules, or its policies contributed to the accident, call our Northern California sports injury lawyer. Head injuries can mean lifelong expenses, not to mention the pain and suffering they can cause, and our team can help you and your child recover the monetary compensation you deserve. This is also a great example of a field in which a personal injury claim can also lead to positive changes that may prevent future injuries.
P.S. See the CDC's Heads Up: Concussion in Youth Sports fact sheet for details on how to prevent, identify, and respond to concussions in young athletes.
See Related Blog Posts:
Concussions & Youth Sports
Youth Sports-Related Injuries by the Numbers: a Hefty, Growing Toll
(Image by Jarrett Campbell)