Speeding and reckless driving, behaviors most of us see every day. However, they are behaviors that our Oakland accident law firm knows lead to crashes, collisions that cause serious injuries and even death. In 2010, according to the California Highway Patrol's Statewide Integrated Traffic Records System, 2,739 people were killed and 229,345 injured in California motor vehicle crashes. All too often, people think that accidents won't happen to them. We have no doubt that the two drivers who were involved in a serious accident that left one car buried in a San Jose home didn't head out on Wednesday thinking it would happen to them.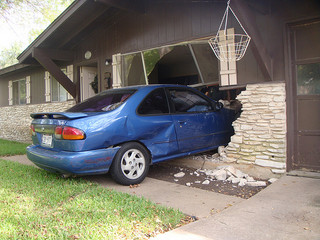 Police Suspect Speeding Led to Horrific San Jose Crash
At the time of The Oakland Tribune's report, a lot remained unclear about the accident that shattered a quiet neighborhood at 4 P.M. on Wednesday. Police suspect that a pair of BMWs were speeding before the crash and are investigating whether the drivers may have been racing as they travelled southbound on Leigh Avenue near Anne Way. Officials believe that both drivers lost control of their vehicles, causing a red sedan to spin out and a silver vehicle to plow into a Leigh Avenue home.
Neighbors told reporters that they heard a loud sound, like a bomb exploding, causing them to rush to the scene. By chance, the neighbors included Stephanie Collins, a former emergency medical tech, and Lou Soliz, a retired Palo Alto Police officer. Arriving moments after the crash, they found a 40 year-old woman who had been in the home lying on her stomach, contorted into an unnatural position and with multiple fractures to her leg. After Soliz and Collins lifted a window off the woman, she cried out for her daughter and the neighbors noticed the sound of a child crying. The neighbors found the girl stuck in a hole in the rubble and pinned beneath the collapsed roof. Miraculously, they were able to pull the 9 year old girl out and found she was unhurt with the exception of a cut from a nail incurred when she was being removed from the rubble. Her mother, however, was taken to the hospital with critical, life-threatening injuries. Captain Cleo Doss of the San Jose fire department said the scene was eerily quiet when emergency crews arrived, a silence that stood in contrast to the damage. Doss noted he had never seen a car stuck so deep into a structure. Three occupants from the silver BMW were also hospitalized with less severe injuries. The red BMW's driver declined medical aid.
Police are investigating the accident, taking measurements and talking to the drivers as their medical state permits. One neighbor, Matthew Schaffer, reported that cars frequently speed down Leigh Avenue, suggesting an accident was just a matter of time. Schaffer had petitioned the San Jose police department last December, asking them to increase traffic enforcement in the area. He said they responded with a notice saying low staffing levels made increased presence impossible. He expressed disappointment, noting that the area is only a block from Leigh High School. Neighbors also said cars are known to race on the roadway.
An Important Message: Drive Safe, Drive Responsibly
Two drivers took off down the road. Moments later, one spun out and another slammed into a residential home. With four victims hospitalized, one in critical condition, and one car left standing inside a home's kitchen, the Leigh Avenue crash is a dramatic reminder that accidents happen. The cause of the accident will be clarified with time, but the image of the wreckage shows the damage cars can do. Drivers should always respect this power, paying attention to the road, obeying speed limits, avoiding reckless behavior, and always remembering that driving is a privilege and a responsibility, not a game.
If an Oakland car accident has left you coping with serious injuries or claimed the life of a loved one, please call. As an experienced Northern California accident lawyer, Attorney Greg Brod can help you recover money damages. Do not agree to a settlement without talking to our team.
See Related Blog Posts:
Witnesses to a Horrific Accident Scene Report Reckless Driving as the Cause
Speeding: An All-Too-Common Threat to Roadway Safety
(Photo by Todd Dwyer; Note: Not a photo of the specific crash detailed)