For over fifteen years, Attorney Greg Brod has served Northern California as a Sacramento injury lawyer. In that role, he has learned that dangerous road conditions play a major role in causing car accidents. Sometimes, road design or maintenance is the primary cause of a single or multi-vehicle accident. Other times, the physical condition of the road is an exacerbating factor in an accident caused by driver error. In either case, we can help.
Young Man Dies in Accident; Road Conditions May Have Been a Factor
According to The Sacramento Bee, both speed and a rough road have been blamed for an accident that killed a young man on Tuesday evening in Sierra County. Andrew Metlenko, an 18 year-old from Reno, was riding as a passenger in a pickup truck driven by 18 year-old Cory Adam Neill of Truckee. The young men were in a 1995 Chevrolet pickup, travelling east on Henness Pass Road toward Stampede Meadows Road in the area northeast of Stampede Reservoir.
The California Highway Patrol released a news report detailing the events that occurred around 6:20 PM. Travelling too fast for the gravel and dirt road, the truck entered a descending curve where the road was interrupted by numerous rocks protruding through its surface. Truckee lost control of the truck, causing the vehicle to slide and start to rotate. After the truck struck an embankment, located alongside a drainage ditch, it started to roll and Metlenko was partially ejected through the window on the passenger side. The vehicle landed on top of the teen. Life-saving efforts by the California Department of Forestry and other rescue personnel were unsuccessful and Metlenko died at the accident scene. Truckee suffered an injured shoulder.
Dangerous Roads Contribute to Motor Vehicle Accidents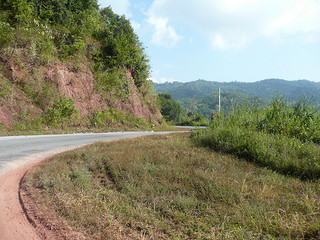 In May 2009, a group of labor unions and other organizations interested in federal transportation policy and funding released a study titled "On a Crash Course: The Dangers and Health Costs of Deficient Roadways." The study concluded that road conditions were a contributing factor in 38% of the non-fatal injuries and more than half (52.7%) of the fatalities resulting from motor vehicle accidents in the United States each year. Road conditions were found to greatly influence the severity of crashes and ranked as "the single most lethal contributing factor," topping alcohol use, speeding, a the failure to use a seatbelt. In economic terms, the crashes in which roadway conditions played a contributory role cost the nation more than $217 billion annually. This figure is more than 3.5 times all government spending on roadway capital improvements each year.
What renders a roadway dangerous or unsafe? Longer-term issues include structural problems, unsafe road design/planning, aging structures, and inaccurate/inadequate signage. Temporary issues may include construction debris or poorly marked detour routing. Any of these issues may contribute to single or multi-vehicle accidents. They can also be a factor in pedestrian accidents. Inclement weather can make dangerous roads, including poorly designed roads, even more hazardous.
Protecting Northern Californians from Dangerous Roads
As your Sacramento dangerous roads law firm, also serving other North California communities, we are able to help those who are injured or who lose a loved one in an accident where unsafe road conditions were a primary or contributing factor. In some cases, a claim against a city, county, or other municipality may be appropriate; we understand the complex requirements of such claims. We also have experience working with accident reconstruction and engineering experts to prove road conditions were a factor in the crash and resulting injuries. Call to schedule a meeting to discuss your case with Attorney Brod. The initial consultation is completely free.
See Related Blog Posts:
San Francisco Injury Lawyer on the Danger of Construction Zone Accidents
Dangerous Condition of Public Property- Tort Claims Against Government Entities
(Photo by Joaquin Uy)