When it is controlled, fire can light the darkness, warm the cold, and make food safe to eat. When uncontrolled, however, fire can destroy property, cause permanent and disfiguring injuries, and claim lives. This post focuses on the specific threat of mobile home fires, including advice on prevention and a reminder that our San Jose mobile home fire lawyer is available to help when a fire caused by someone's negligence or recklessness leaves a victim injured or dead.
Two Fatal Fires Strike San Jose Mobile Home Park in Single Week
On Wednesday, the Sunnyvale Department of Public Safety responded to a call at Rancho La Mesa mobile home park where, according to the San Jose Mercury News, they found a home engulfed in flames. While 25 firefighters were able to gain control and prevent the fire from spreading, one person was found dead in the home and was so badly burned that an identification could not be made immediately.
The blaze marked the second fatal fire to hit a Sunnyvale mobile home park in less than one week. The previous fire occurred on May 8 at Cape Cod Village Park and claimed a man and wife. The husband had been able to rescue his developmentally disabled son but died trying to save his wife.
Tips for Preventing Mobile Home Fires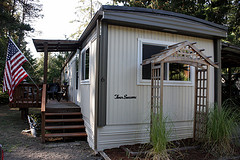 The National Fire Protection Association, a non-profit established in 1896, has a specific webpage dedicated to Fire Safety in Manufactured Homes. Manufactured homes, also called mobile homes, are transportable residences that can be fixed to a site. They are regulated by federal law which includes fire safety regulations. Data shows that fires in mobile homes that are in legal compliance are much less likely to lead to a fatality. Additional data from 2007 to 2011 suggests slightly more than half of fires in mobile homes occurred in residences without smoke alarms.
The NFPA's specific fire safety advice for mobile homes includes:
Only buy/rent a home that meets federal standards from the Department of Housing and Urban Development.
Maintain working smoke alarms in the main living space and in/near all sleeping rooms. Never disable/remove a smoke detector.
Have an escape plan with alternate exits from each room. As per federal standards, windows in the bedrooms should open and be able to be used for escape.
Do not hang or install anything on the wall that might interfere with federal standards that require wall linings will not enhance the spread of fires.
Three common sources of home fires are electrical, cooking, and heating systems. There are a variety of tips laid out by the NFPA and in prior blog posts, many of which are applicable to all residential settings (i.e. keep space heaters 3 feet from anything that might burn).
Be especially vigilant about avoiding smoking-related fires. Have people smoke outside and set up non-tip ashtrays.
Arsonists are an unfortunate reality. Keep flammable materials like gasoline or lighter fluid locked up and do not keep them under the residence. Store firewood away from the home.
A Particular Tragedy: Representing Victims When Someone is At Fault
Residential fire safety is important whether you live in a mobile or fixed-site dwelling. Fires can escalate quickly and tragedies can happen in mere minutes. All too often, fires are the result of someone's negligent or reckless acts, such as a manufacturer who cuts corners and uses dangerous building materials or a mobile home park site that skirts fire regulations. If someone else's actions caused a fire that left you or a loved one injured, call our San Jose residential fire injury law firm. We serve all of Northern California and can help you recover crucial compensation from those at fault.
See Related Blog Posts:
The Threat of Home Electrical Fires
Landlord Liability for Home Fires
San Jose Mobile Home Resident Lawyer Discusses Proposed Conversions
(Photo by Krista Garcia)