When our San Francisco accident lawyer hears about an accident involving a bicycle, the cyclist is often the victim of a negligent driver. So it is with particular interest that the team at The Brod Law Firm, an experienced San Francisco collision law firm, has been following the developing story in which a cyclist struck and killed a local pedestrian.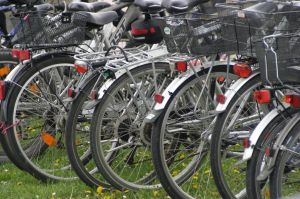 This week, the San Francisco Chronicle reported that District Attorney George Gascón is moving forward with felony vehicular manslaughter charges stemming from an incident that occurred on March 29, 2012. Chris Bucchere, age thirty-five, was riding his bicycle in the Castro district when he struck and killed seventy-one year old Sutchi Hui. At the time of the accident, Hui was a pedestrian and in the crosswalk located at the intersection of Market and Castro Streets. The charge is a felony and could carry a sentence of sixteen months incarceration.
While it is believed that Bucchere had a yellow light when he cycles southbound through the intersection, a witness reports seeing him go through several stop signs and red lights on Divisadero Street before he reached the accident scene. A tracking device on the bicycle also indicated Bucchere was travelling faster than 35 miles per hour in a 25 mile per hour zone. The district attorney's office believes these and other facts support a charge that Bucchere was grossly negligent and failed to yield to Hui at the crosswalk. Surveillance footage also shows that the cyclist was hunched over and made little or no effort to avoid hitting the pedestrian.
Initial reports focused on internet postings allegedly made by Bucchere. The posts suggested the cyclist was "too committed to stop" and opted to continue speeding and plow through the crosswalk at the area with the fewest pedestrians. The D.A. indicated the posts are unlikely to be used in court because authorship cannot be proven.
The charges are notably different from those in another San Francisco bicycle accident that happened last summer. In that case, twenty-three year old Randolph Ang struck sixty-eight year old pedestrian Dionette Cherney who dies after falling and hitting her head. The accident occurred on July 15 as the tourist from Washington D.C. crossed Mission Street at the Embarcadero. Cherney's family supported the D.A.'s decision to only file a misdemeanor charge that resulted in a plea deal involving three years' probation, 500 hours of community service, and $15,375 in restitution for the deceased's family. Ang's attorney noted that, in contrast to the more recent incident, his client immediately stopped to try to help the victim, expressed remorse, and took responsibility for the accident.
As a reminder, a victim can file a civil suit regardless of the nature of criminal charges and even if authorities opt not to file a criminal suit. In vehicle accident cases, the criminal system is focused on punishing a violation of the law. In contrast, the civil system seeks to provide compensation to those harmed by the wrongdoer's acts. The Brod Law Firm focuses on civil claims. If you have suffered injury in an accident that was someone else's fault, please contact us for a free consultation to discuss how our San Francisco victim's law firm can help you recover compensation for your injuries.
See Related Blog Posts:
Oakland Bicycle Fatality Reminds Residents of the Need to Share the Road
San Francisco Bicycle Accident Attorney on Safety and The Policy of Contributory Negligence