In battling elder abuse, one of the most important weapons we have is awareness. Our San Francisco elder abuse law firm represents elder abuse victims and also works to prevent future abuse by using this blog to spread awareness about the many forms of elder abuse. Among the lessons we hope to share is the fact that not all bruises are physical. Emotional abuse may not leave a visible scar, but it is still a very real form of abuse. We take emotional elder abuse very seriously, representing its victims and discussing its breadth to help community members recognize when it occurs.
Emotional Elder Abuse Explained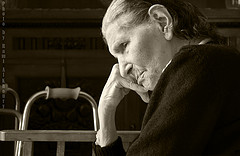 Emotional abuse can occur in any setting, including individual homes as well as our nation's senior care facilities. Seniors, like everyone else, have a right to be treated with dignity and respect. Denying someone that basic right, treating someone as less than human, is the hallmark of emotional abuse. Focusing on abuse in a care center environment, some of the many forms of emotional abuse include: Isolation (ex. preventing a resident from speaking/meeting with family); Manipulation (ex. telling the resident that meals will be delayed if he asks for assistance during the staff member's shift); Degradation (ex. making fun of a patient's inability to control her bladder); and Threats (ex. telling a resident she won't get help if she has another bathroom accident). Often emotional abuse builds on itself, such as threatening a patient if she reports family visits being withheld.
Spotting Emotional Abuse and Holding Offenders Responsible
Since emotional abuse typically doesn't leave visible scars, it can be harder to spot. Victims may not report the abuse themselves due to fear of retribution or because of their mental or physical condition. Some of the warning signs that should put a loved on alert: Withdrawal; Anxiety or agitation; Mood swings; Aggressive/Abusive behavior toward others; Displaying discomfort around an individual; or Other unusual behavior.
Care facilities and corporate owners/operators may contribute to, and thus also being responsible for, abuse by overworking staff or failing to take complaints seriously. When we represent an abused senior, we look at all parties who contributed to the abuse and hold all of those parties responsible. This can be important if a court orders money damages, such as money for relocation costs or psychological care necessitated by the abuse, since individuals may lack the resources to pay such an award.
Awareness, Prevention, Protection: Our Nation and Our Law Firm
The problem of elder abuse should be an issue that concerns us all. This week, the President confirmed the nation's commitment to preventing elder abuse and protecting the victims by proclaiming June 15, 2013 as World Elder Abuse Awareness Day. In doing so, he asked people across the country to learn the signs of abuse and work to raise awareness of what he called "[a] growing public health issue."
Our team at The Brod Firm shares the commitment to raising awareness and bringing an end to elder abuse. If you or someone you love is experiencing elder abuse in San Francisco or the surrounding regions, please call our Northern California elder abuse law firm. We can help. Additional information on reporting elder abuse can be found on the website for the California Department of Consumer Affairs.
See Related Blog Posts:Northern California Elder Abuse Lawyer Examines the Factors that Lead to Elder Abuse
Identifying the Many Forms of Elder Abuse

(Photo credit: C & More)