Many of us have sat before a burning fire and marveled at its intricacy and beauty. While fire can be fascinating, it remains one of the most powerful and dangerous forces known to man. As described below, residential fires pose a greater threat to human lives than any other type of fires. When an apartment fire death results from a blaze caused by the negligent or wrongful acts (or failure to act) of a property owner/landlord, a wrongful death suit may be appropriate. Our Oakland apartment fire attorney works with grieving families to help them recover following these terrible tragedies.
West Oakland Fire Claims Two Lives
Early Saturday morning, a fire in a West Oakland apartment building claimed two lives. As reported in the San Francisco Chronicle, the Oakland Fire Department was called to the 600 block of 24th Street at around 3 A.M. and found smoke emanating from a two-story brick building. The property involved had been an armory before being split into two apartment buildings, one on 24th and one on 23rd. Flames spread from a unit in one building to apartments in the other.
Fire crews began fighting the blaze and called for backup assistance. During a search of the 24th Street building, firefighters found two men, Davis Letona (age 27) and local artist Moe Thomas. Both were declared dead at the scene. Approximately thirty others were displaced by the blaze. An investigation into the fire is ongoing, with officials leaning towards an "accidental" label and stating they do not believe an accelerant was used.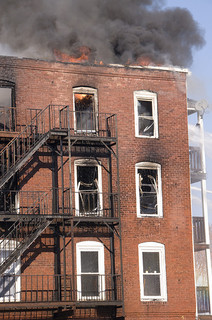 Statistics on Residential Fires and Civilian Casualties
Part of the Federal Emergency Management Association, the United States Fire Administration ("USFA") collects data on fires from a range of sources in order to better understand the nation's fire threats. According to 2011 data, 75.7% of all fire deaths in the United States and 79.1% of fire injuries occurred on residential property. The USFA also prepared a report titled "Civilian Fire Fatalities in Residential Buildings (2010-2012)" which attributed 82% of civilian fire fatalities during the period to residential fires. From 2010 to 2012, an estimated 2,465 civilians died in 1,700 fatal residential fires, a subset of an estimated 366,900 total fires in residential buildings.
The USFA report also looks at the cause of residential fire fatalities. In 91% of cases, the primary symptoms leading to civilian death were smoke inhalation and thermal burns. Of those cases, 46% involved both symptoms, 40% involved smoke inhalation alone, and 5% were attributable to burns alone. Additionally, cardiac arrest accounted for 3% of residential civilian fire deaths between 2010 and 2012.
Apartment Fires and Landlord Liability/Owner Liability
While the cause of the weekend's deadly fire in West Oakland is unknown, apartment fires can sometimes be traced to either the acts or failure to act of property owners, landlords, or other management personnel. When those fires lead to a human fatality, the deceased's immediate family members may have a wrongful death case against the party responsible and/or any relevant insurance carrier. Likewise, a civil personal injury action may be appropriate if the fire causes injuries, especially if those injuries carry long-term consequences including the deep emotional/psychological trauma caused by burn scars.
Why Hire the Experienced Brod Law Firm Team Following a Northern California Apartment Fire?
As in other civil matters, engaging an attorney to represent the victim and/or the victim's family is critical. Victims should resist the urge to agree to a settlement offer prior to consulting legal counsel. Defense counsel and insurance companies often make a low, early offer hoping the victims will agree to it out of a desire to "be done with it" rather than consulting an attorney. The true value of the claim(s), i.e. the amount a court would be likely to award, is often much higher than this initial offer. Even if the case settles prior to trial, having an attorney on your team can mean recovering substantially more than going it alone. As an experienced negotiator and skilled litigator, Attorney Greg Brod brings value to his clients at all phases of the legal process.
Another important point – as a victim's law firm, we do our own investigation into the facts of the case. Our law firm may uncover evidence the police miss. We may be able to prove the fire resulted from the defendant's acts/failure to act even if the police and fire officials are unable to do so. We encourage victims to call our office as soon as possible after a fire in order to facilitate the investigation and ensure evidence and witnesses are not lost.
With experience in wrongful death, personal injury, residential fire, and landlord/tenant matters, the Brod Law Firm is well-positioned to help victims as a law firm for apartment fire injuries and a law firm for apartment fire deaths in Oakland and throughout Northern California. Call or press the "Contact Us" button to start the process.
See Related Blog Posts:
San Francisco Apartment Rental Fires & the Law (addressing renter's rights after a fire)
Fire Injury and California Landlord/Tenant Law (addressing landlord's fire safety obligations)
(Image by Jay Adan; Note: Image is not from West Oakland fire discussed in post)