Trust.  It is an essential part of living in a community from trusting the food we purchase is safe to trusting opposing traffic will stop when they have a red light.  As our population ages, another form of trust becomes ever more important – trusting that elder care facilities will care for and protect their residents.  A shocking example of the violation of this trust arises when facilities fail to guard against sexual elder abuse.  Difficult as it is to think about, sexual abuse in nursing homes is a very real threat and our San Francisco nursing home abuse lawyer believes elder care facilities must take swift and comprehensive action when sexual abuse occurs whether the perpetrator is a nursing home employee or another resident.
Civil Suit Follows Investigation into Nursing Home's Failure to Report Sexual Assault
On June 16, a civil lawsuit was filed in Washington state involving allegations that a nursing home failed to take appropriate steps to protect a resident from sexual abuse.  KOMO 4 News and Wenatchee World (via San Mateo County's Network of Care) report that the estate of Christine Trowbridge filed the suit against Cashmere Convalescent Center.  The civil action follows government investigations, including a $6,500 fine levied by the state's Department of Health and Human Services for failing to intervene in or report the abuse.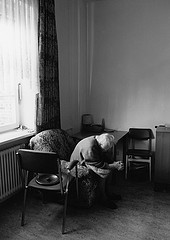 Trowbridge was admitted to Cashmere's dementia care ward in 2013.  In addition to other mental and physical deficits, she suffered from partial paralysis and was barely able to speak.  According to the lawsuit and the recent investigation, staff members found a male resident in Trowbridge's room on two separate occasions during January 2015.  On the first occasion, the man took hold of Trowbridge's hand and put it on his genital region.  After the second visit, Trowbridge told a nurse that the man was sexually abusing her.  While employees stopped the conduct, the nursing home did not report the events to state health investigators as the law requires.  According to the Complaint, in the wake of the incidents Trowbridge became depressed, suffered suicidal thoughts, and lost significant weight due to lack of appetite.  Trowbridge was hospitalized with pneumonia and respiratory failure on May 11 and died three days later.
Notably, investigators found the same male resident behaved in a similar manner with other female residents.  No reports were made until February 2 when he was found fondling a female resident in the dining facility.  The nursing director defended the failure to report prior events saying she believed the incidents were consensual and the man had a right to physical intimacy.  However, state investigators concluded the center failed to assess the ability of the female patients to consent to sexual activity and that this failure left the women vulnerable.
Sexual Mistreatment of the Elderly: An Understudied Threat
The National Institute of Justice, a research arm of the federal Justice Department, calls sexual abuse "one of the most understudied aspects of elder mistreatment."  Disturbingly, a 2006 study concluded that cases of sexual abuse in care facilities are less likely to lead to charges and a finding of guilt than cases involving seniors living independently.  There has been a repeated refusal to recognize the immense psychological impact of these crimes including a failure to routinely assess/evaluate the psychological effects of sexual elder abuse on the victim.  Charges are often not filed unless there are physical signs of assault.
A Matter of Trust
Nursing homes are entrusted with the care of our beloved relatives and friends — and perhaps, one day, ourselves — who can no longer care for themselves.  We must be able to trust that the facilities will keep residents safe and guard them against threats including the threat of sexual abuse.  This obligation not only includes proper reporting but also taking affirmative steps to prevent sexual abuse of the elderly and infirm in the first place.
If you believe someone you care about has been sexually abused or otherwise mistreated while at a Northern California senior care facility, call the offices of our elder abuse law firm in Sonoma, San Francisco, or Oakland.  We can help you protect and advocate for your loved one.
See Related Blog Posts:
Resident Aggression: A Growing Threat in Senior Care Homes and Facility Liability
California Enacts New Law Expanding Mandatory Reporting of Elder Abuse
A Shocking Form of Elder Abuse: Sexual Abuse Against Seniors in Care Centers and At Home
(Image by Ulrich Joho)