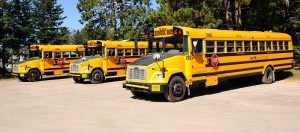 School bus accidents are among the most devastating, especially when young children are injured. Recent school bus accidents in the news highlight the importance of school bus riders and drivers taking proper safety precautions. Recently, a school bus in Tennessee careened off the road, flipping before hitting a tree, killing six children and injuring many more. Another bus carrying cheerleaders was involved in a highway accident with an 18-wheeler. These accidents caused serious injuries, and likely could have been prevented.
Seat Belts on School Buses
Most school buses are not equipped with seat belts. There is some disagreement as to whether seat belts help or hurt in school bus accidents. Seat belts can certainly prevent kids from flying out of their seats if the bus flips, or comes to a sudden stop. However, some people think that it may be more difficult to get children out of the vehicle should it be involved in a serious problem, such as a fire. The school bus involved in the Tennessee accident was not equipped with seat belts.
The Human Factor in Bus Accidents
Many accidents are the result of human error. After an accident, the exact cause needs to be determined, and can take some time to resolve. For example, in the Tennessee accident, early reports state that at least several parents had filed complaints with the school regarding the bus driver's poor driving. Some children in the bus reported that at the time of the accident, the bus was speeding. The driver may also have had previous driving violations.
Injuries Caused by School Bus Accidents
Luckily, bus accidents are not common. However, when they do occur, they can result in some serious and life-threatening injuries. Head trauma and neck injuries are among the most common types of injuries reported after school bus accidents. Children may hit their heads on the seats or other metal parts of the bus, or may even be thrown to the floor.
Preventing School Bus Accidents
Every precaution should be taken to prevent the occurrence of school bus accidents. Buses are usually operated by contracted companies. The buses should be regularly inspected and maintained to make sure that they are mechanically sound. The driving records of drivers must be checked, and background and criminal checks done. Driving records must be continually reviewed. Parents and others should report any problems to authorities immediately. In this case, it has been reported that at least several parents had reported erratic driving by the driver; however, he was still operating the vehicle. These reports must be taken seriously, and investigated properly to ensure the safety of the students.
When a child suffers a serious injury or is killed because of a school bus accident, it is devastating for the family. The parents may incur astronomical medical bills and other costs. These costs should be compensated by the responsible party. If your child was hurt in a bus crash, contact the experienced lawyers at Brod Law Firm to discuss your case. We will answer your questions in a free initial consultation. Call us today at 800-427-7020.
(image courtesy of Taxiarchos228)