Child safety seats, now standard fare, are a fairly new innovation. Many adults, especially those who came of age in the 1970s or prior, recall having free reign to roam the back seat, a freedom today's children couldn't imagine. Today, we know that proper restraints can save lives and prevent serious injury. This blog entry focuses on the proper use of child safety seats to keep our youngest travelers secure. It also provides an important reminder that even "safety equipment" can be unsafe. If a defective car seat contributed to an injury or a fatality, our San Francisco child injury attorney is prepared to help.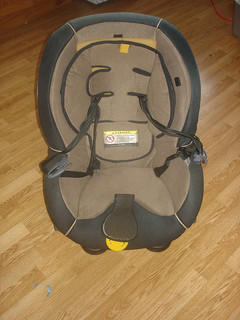 1.3 Million Child Safety Seats Recalled for Latch Problem
Evenflo Company Inc. recently issued a voluntarily recall for buckles used in more than 1.3 million child safety seats manufactured between 2011 and 2014. As the San Francisco Chronicle reports, the buckle may become stuck in the seat's latch. This could be dangerous, even life-threatening, if it hampers a caregiver's ability to get the child out of the seat in the event of an emergency. The article details the specific seats involved in the recall (not all seats made by Evenflo in the time frame are affected). Evenflo asserts that the malfunction only occurs when the buckle/latch has been exposed to contaminants such as food particles and says they have not received any reports of actual injury due to the problem. The company plans to alert all appropriate registered owners of the recall and to supply replacement parts.
Regulators had been looking into potential buckle malfunctions in Evenflo seats since January and are continuing to look at possible issues with one rear-facing model. In February, Graco announced a similar recall impacting 3.8 million child seats. Federal safety officials suggest the Graco recall should have included another 1.8 million infant seats.
Tips for Using Child Safety Seats
While they are a vital safety innovation, child seats aren't always child's play. Advice contained in the Car Seat Safety Tips pamphlet prepared by the non-profit Safe Kids Worldwide includes:
Pick the proper seat for the child's age/size.
Position the seat correctly, keeping the seat rear-facing until the child is approximately 2 years old. See the specific guidelines for your seat model to determine which anchors and tethers should be used as the child grows.
Know the history of the seat and only use a "used" seat if you do. Current guidance calls for replacing a seat that has been in a moderate or severe crash (see blog entry linked below for more details). Car seats do expire and typically last about six years, consult the label for details.
Make sure the seat is properly installed. Nearly a full three-quarters of child seats are installed incorrectly or otherwise used improperly. The SafeKids pamphlet has some basic advice, but visiting an inspection event or making an appointment with a qualified technician is even better. Consult the SafeKids site or Seatcheck.org for help (inspections are often free).
Buckle up! The best car seat is useless if the child isn't buckled in. Teach kids that the car doesn't move until EVERYONE (adults too!) is buckled up.
The Danger of Defective Child Safety Seats
Frighteningly, sometimes safety equipment can actually cause or contribute to injury or death. Some potentially dangerous defect/malfunctions (including some that violate regulatory standards) are: Flammable materials, including straps; Weak frame; Latches that unclip; Straps that loosen or rip; Latches or adjustments that get stuck; Carriers that separate from the base; or Seats that fail to properly protect the child's head. In many cases, a defective seat is not the sole source of injury and instead is a contributing factor. For example, a driver may run a red light, hit a second vehicle, and a child may be injured after the straps on a car seat inside that vehicle become loose. Even if it isn't the sole factor in the injury/death, a product liability claim may still exist if the defective product contributed to the harm. This can be critical in a real-life scenario if the driver is unable to pay a damages award.
Keeping Children Safe and Advocating for Our Youngest Clients
Using a car seat, and using it properly, can save a child's life. We encourage caregivers to take the time to ensure car seats are properly installed and to teach children that seatbelts and safety seats must be used for every trip, no matter how brief. In the event that a "safety" seat malfunctions and contributes to a child's injury, you and/or your child may have a legal claim. With offices in Oakland, San Francisco, Santa Rosa, and San Jose, our Northern California child injury law firm can help you navigate the civil injury system. The money damages available in civil court are especially crucial when injuries have life-long consequences.
See Related Blog Posts:
Tools to Keep Children Safe: WHALE Program and Rules on Car Seat Replacement
Keeping Kids Safe and Advocating for the Smallest of Car Crash Victims
(Photo by Daniel X. O'Neil; photo does not reflect a recalled seat)