We teach children to look both ways before they cross the road. We teach them to watch for cars pulling in or out of driveway. While we tell them to always be alert, we also teach them that sidewalks are the safest place for pedestrians. However, many pedestrians have experienced a scare due to a bicycle speeding along on a sidewalk. Bicycles on sidewalks have led to pedestrian injury and even death. While our firm is a staunch supporter of bicycle riders, we are also committed to serving as a San Francisco pedestrian injury law firm when rider negligence threatens pedestrian safety.
San Francisco Pedestrian Hit &Injured By Bicyclist Riding on Sidewalk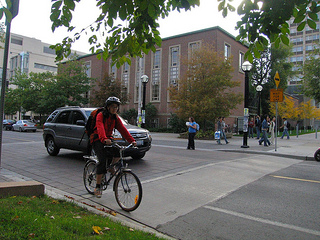 Although most bicyclists ride responsibly, a story in the San Francisco Chronicle highlights the potential for bikes to be a threat to pedestrians. A woman in her 60s was walking on Market Street, heading east near Stockton Street on Sunday June 9. At approximately 12:25 P.M., the woman was hit by a 21-year-old bicyclist travelling west. Officer Gordon Shyy reports that the pedestrian fell and hit her head after the collision. Emergency services transported her to San Francisco General Hospital with life-threatening injuries. The bike rider did stop and cooperated with the police. Initially, he was cited for riding his bike on the sidewalk, but that citation has been put on hold as investigators decide whether additional charges are warranted.
Northern California Law on Bicycle Riding on Sidewalks
California leaves the issue of whether bicycles are permitted on sidewalks to local cities and counties. In San Francisco, as noted by the San Francisco Bicycle Coalition, it is against the law to ride a bicycle on the sidewalk if you are thirteen years old or older. The Coalition notes that it often hears from people who have felt threatened by a bicycle riding on the sidewalk. The group says that its position conforms to the law and holds that sidewalks are for pedestrians. Bicycle riders who use the sidewalk may do so because they are afraid of riding on the busy streets. Instead of condoning this behavior, the Coalition focuses its advocacy work on making the streets safer for bicycle riders. The Coalition collaborates with Walk San Francisco as well as with the "Sidewalks are for Pedestrians" campaign, a Senior Action Network project.
In addition to San Francisco, many other Northern California locales prohibit bicycles from riding on sidewalks. In Oakland, Section 10.16.150 of the Municipal Code provides that bicycles are not permitted on sidewalks if the frame is 14 inches or greater or if the wheels have a diameter of 20 inches or greater (essentially allows only children to ride on sidewalks). Berkley Municipal Code 14.68.130 similarly prohibits civilian bicyclists from riding on sidewalks, with the exception of juveniles. Riding on sidewalks is also prohibited in Sacramento, unless the sidewalk is part of a designated bike route, pursuant to City Code 10.76.010.
Even where sidewalk riding is permissible, a pedestrian hit by a bicycle may still have a civil personal injury case against the rider based on general principles of negligence and recklessness.
Our Commitment to Keeping Sidewalks Safe
The Brod Firm supports bicycle riders and Attorney Greg Brod is a member of both the San Francisco and Marin County Bicycle Coalitions. However, riders owe a duty of care to those around them and cannot be blind to pedestrian safety. If you have been injured or lost a loved one due to a negligent rider, please call our San Francisco injury law firm to arrange a free consultation.
See Related Blog Posts:
School Zone Car Accident in Antioch Raises Major Safety Concerns
San Mateo Pedestrian Accident – A Reminder of an All-too-Common Safety Threat
(Photo by Alain Rouiller)