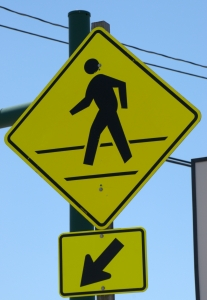 Our Oakland pedestrian accident law firm believes in keeping the road safe for all travelers. Walking is a wonderful form of both exercise and transportation. It benefits both the individual and the community, protecting the health of the walker and the environment as well as saving money for the pedestrian as well as the tax-paying public. However, walking more often makes headlines for tragedies rather than the many positives associated with travelling by foot.
According to the Oakland Tribune, an eighty-one year old woman lost her life while walking near the Regional Medical Center of San Jose on Wednesday. The San Jose resident was crossing North Jackson Avenue in the early morning hours when struck by a vehicle travelling south near Alexian Avenue. Reports did not immediately identify the driver of the 1993 Toyota Tercel, a fifty year old man who also calls San Jose home. Police do not believe alcohol or drugs were a factor in the accident. Investigators from the San Jose Police Department's Traffic Investigations Unit are asking for calls from witnesses and also invite anonymous calls to the Silicon Valley Crime Stoppers Unit.
Right-of-way rules, including those governing intersections, seek to promote traffic safety. This is especially important for the well-being of pedestrian, bicycle riders, and motorcyclists. Per the California Department of Motor Vehicles, failure to obey right-of-way rules causes a high percentage of injury crashes in California. Drivers must respect pedestrian rights, including stopping for a pedestrian in any crosswalk. Motorists must also stop for pedestrians crossing at a corner where there is no traffic signal, even if there is not a marked crosswalk. Additionally, the law requires drivers to yield to pedestrians when the driver crosses a sidewalk to enter a parking lot, alley, or driveway. Older or disabled pedestrians, as well as those travelling with young children, often need extra time to navigate a crossing. One new issue of modern transport – hybrid and electric vehicles are often silent, or at least quieter than gas engines, and drivers of these vehicles should take extra caution.
Pedestrians should always take part in safety efforts. Approximately nineteen percent of all California traffic fatalities are pedestrian deaths. Pedestrians should use sidewalks where available and should always look carefully at all intersections, crossing in designated crosswalks whenever possible. Distracted walking, when a pedestrian focuses on a mobile device or something similar instead of on surrounding conditions, is an increasing danger. While pedestrians should take safety measures, remember that the law does not require perfection. Pedestrians can and do win lawsuits. Do not let fear that you may have shared in the fault stop you from seeking compensation after being injured in a pedestrian versus motor vehicle crash.
An experienced attorney is often essential to winning injury cases, including those involving an injured Oakland pedestrian. Our experienced attorney will help evaluate your case and advocate for your legal rights. Insurance companies will contest cases even where the driver was clearly at fault. Engaging a lawyer does not always mean a long, drawn-out trial. Many injury cases settle out of courts and injured people get significantly higher settlement amounts when they have an attorney on their side. Whether concluded in negotiations or at trial, The Brod Law Firm gets results for injured Californians. Call to schedule a free consultation.
See Related Blog Posts:
Pedestrian Fatality Claims the Life of Newly Minted U.S. Citizen
San Francisco Lawyer Comments on Taxi Accident Law After Pedestrian Dies in Cab Collision