Living in California, we all know that earthquakes are a threat. Still, nothing can truly prepare you for feeling the ground shake beneath you, especially to the degree it moved during the history-making 6.0 quake that hit Northern California on August 24, 2014. Given our region's propensity towards earthquakes, it is important to take steps in advance to help avoid earthquake injuries or death. If you or a loved one is hurt or a close relative is killed because another person/entity negligently failed to prepare for an earthquake, our Napa earthquake attorney may be able to help you hold those responsible liable and recover money damages in civil court.
Woman Hit By Television Becomes First Fatality of Napa Earthquake
On Friday September 5, a woman became the first reported death linked to the recent earthquake. The San Francisco Chronicle reports that 65 year-old Laurie Anne Thompson was asleep on a recliner in her home when the quake hit. A television toppled off a stand, hitting Thompson in the head. Although she was knocked unconscious, she did not seek treatment immediately. The following day, family members noticed a sudden decrease in cognitive ability and later, while preparing to go to the doctor, Thompson collapsed and seized. Doctors diagnosed a subdural hematoma and began treatment using a tube to drain blood and fluid from the brain. After Thompson improved for seven days and the tube was removed, she began to decline and eventually passed away. The coroner listed intracranial hemorrhage as the cause of death.
Preparing for Earthquakes
Ready, a national public service advertising campaign focused on helping Americans prepare for natural and man-made disasters, provides a webpage dedicated to earthquake preparedness. A number of tips in the section on advance preparation focus on securing items to prevent incidents such as the accident that killed Laurie Anne Thompson. This includes attaching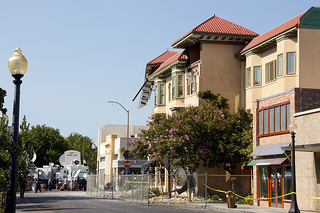 shelves to walls and securing hanging items (i.e. mirrors, framed art) to walls. They also caution against placing heavy hanging objects over beds or sitting areas. Items placed on shelves should be secured to the shelves, with heavy items placed low when feasible, to prevent them from becoming projectiles in a quake. Furniture items like bookcases and large appliances should be anchored or secured with straps that limit motion. Similarly, flexible straps should be used to keep large electronics in place. Storing objects in cabinets that latch (and using the latches!) is also a useful step to prevent earthquake injury.
Of course, preparation goes beyond securing items. General maintenance is an important step in preventing earthquake injuries and deaths. Keeping wiring and gas connections in good working order helps prevent fire. Flexible pipe fittings can prevent gas leaks. Checking for structural problems is also an important safety step. Earthquake preparation also includes locating safe spots in the rooms you frequent, holding earthquake drills, and building an emergency kit.
Negligent Preparation, Injury, and Liability
As Ben Franklin wisely wrote, "An ounce of preparation is worth a pound of cure." In some cases, failing to actively prepare for known threats amounts to negligence. As discussed in a prior post, an appeals court recently held a store liable for the deaths of two women who were crushed by bricks and plaster as they tried to escape a store following a quake. The court upheld a jury verdict holding the building owners negligent for not properly retrofitting the structure. This is important precedent. If an individual or company, particularly a property owner, fails to take reasonable precautions and this leads to injury or death, a civil claim for damages may exist. Call our Northern California natural disaster attorney if you or someone you love was hurt due to the dangerous mix of a natural disaster (ex. earthquake, flood, thunderstorm, etc.) and a negligent lack of preparation.
See Related Blog Posts:
Earthquakes, Insurance, and Liability
Lightning Strikes and California Injury Law