Whether getting an overview of one city or enjoying a trip that incorporates multiple stops, tour buses can be a great option. By relieving tourists of the responsibility of driving, tour buses can allow people to truly appreciate the sights without worrying about watching the road, give travelers a chance to catch up on sleep, or simply allow them to avoid the stress of driving in an unfamiliar area. They should be, and typically are, a safety-minded option. Unfortunately, tour bus accidents do occur. Our Santa Rosa tour bus attorney is ready to help victims when a Northern California tour bus crash occurs, especially when the accident stems from the negligence of the driver or because a dangerous corporate policy put travelers at risk.
Bus's Second Accident of the Day Leaves One Dead, Thirty Injured
A tour bus crash that killed one and injured 30 others would be a tragedy in itself, but the accident detailed in the San Francisco Chronicle is particularly disturbing given that it was the vehicle's second wreck in the same day. According to the California Highway Patrol, on Sunday morning a tour bus struck a restaurant overhang in Red Bluff, causing only minor property damage and no injuries. The bus continued its trip from Los Angeles to Pasco, Washington. After travelling approximately 50 miles from the first incident site, the bus was on Interstate 5 about 100 miles south of the California/Oregon border when it drifted off the shoulder, traveled down an embankment, and rolled onto its roof. The second crash claimed the life of a man from the Fresno area and left three others in critical condition. Three additional passengers were in serious condition after the crash and two dozen were treated for more minor injuries and released.
Investigators suggest that driver fatigue may have been a factor but did not say whether citations/charges are expected. The bus was identified as a 1996 Vanhool operated by Washington-based Yellow Arrow LLC. Sixty-seven year old Jose Victor Garcilazo was named as the driver of the bus.
California Law on Common Carriers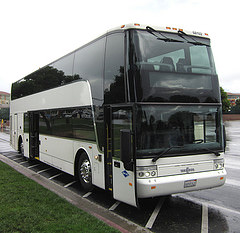 California law places a special duty on buses and other "common carriers." Pursuant to Civil Code 2100, those who carry people for pay "must use the utmost care and diligence for their safe carriage, must provide everything necessary for that purpose, and must exercise to that end a reasonable degree of skill." This is a significantly higher duty than that imposed on a typical driver on California's roads.
Bus Crash Causes & California Civil Claims
There are many factors that can contribute to a bus crash. Driver fatigue is a major issue and there is significant work being done to build technologies that can help identify fatigued drivers and help avoid fatigue-related crashes (ex. a 2009 report evaluating a system using a near-infrared camera and processing equipment to evaluate the percentage of eye-closure, a measure of fatigue). Likewise, drivers under the influence of drugs or alcohol pose a risk to their passengers and to other travelers. More specific bus-related dangers include: Drivers who lack appropriate training; Drivers who have not been well-screened for employment; Vehicles that are overloaded and/or incorrectly loaded; and Vehicles or other equipment that are not adequately maintained.
Bus accidents can involve a range of complex legal issues ranging from employment law to sovereign immunity questions where the bus is operated by a government entity. It is important to file legal claims in a timely matter and to include all proper parties in the pleadings. As a Northern California bus injury lawyer, Attorney Brod understands these and other legal issues and can provide top-notch legal representation to those injured in bus accidents. Call for a free consultation.
See Related Blog Posts:
Passenger Vehicle Accident with Transit Buses Cause Serious Injuries
$14.3 Million Dollar Award to Woman Injured While Riding Transit Bus
(Photo by Greg Goebel, does not picture bus involved in news report)