Children and the elderly are perhaps the two most vulnerable segments of our society. While child abuse is the subject of wide-ranging awareness and prevention campaigns, elder abuse in Sacramento and elsewhere in Northern California is often a subject that remains taboo. As a Sacramento elder abuse law firm, the team at The Brod Law Firm believes that awareness is a vital step in preventing and reducing instances of elder abuse in our communities.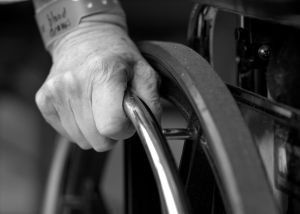 Police in Woodland are continuing to investigate a suspected case of elder abuse. On Friday April 27, officers arrived at the 200 block of Ablele Street in response to a domestic disturbance report. When they arrived at the scene, they found an elderly man, identified in some reports as Jerry Woodall standing in the front yard of a home. The man was suffering from multiple, non-life-threatening injuries and additional responders were called in to transport him to Woodland Memorial Hospital for treatment.
Officers quickly focused suspicions on the elderly man's son, 42 year old James Woodall. By the time police arrived, the suspect had returned inside a residence and he refused to open the door when the officers knocked. Police contacted the younger Woodall by telephone but he refused to emerge. Eventually, a team of officers, aided by a police dog, forcibly entered the home. They found that Woodall had barricaded himself in a bedroom and that he had started a fire. Officers retreated out of concern for their own safety. A negotiation team was called in and the suspect eventually began communicating and exited the back bedroom. Police were then able to subdue the man and they apprehended him with the aid of the police canine. The younger Woodland was treated for minor injuries sustained during the apprehension. He was then booked at the Yolo County Jail. He has been charged with suspicion of battery causing significant injury and elder abuse. Additional charges of arson and battery on a police dog have also been filed as a result of the stand-off.
The National Center on Elder Abuse ("NCEA") is a resource center that seeks to prevent elder abuse nationwide. A 2005 NCEA report estimates that between one and two million Americans over age 65 have been exploited, injured, or otherwise mistreated by someone they depended upon for care and protection. Elder abuse statistics are very hard to compile because there is little agreement on a precise definition and because a large percentage of elder abuse cases go unreported. The same NCEA report suggested that only one in every fourteen cases of elder abuse in a domestic setting is brought to the attention of authorities. In additional to physical injury, elder abuse can also include financial exploitation, a form of mistreatment that may impact five million elderly Americans each year with estimates suggesting a mere one in twenty-five cases being reported.
Everyone can play a role in preventing elder abuse by keeping vigilant for potential abuse and staying connected to seniors who might be isolated from society, especially if they are suffering from dementia or other illness. Abuse can happen in nursing homes, hospitals, and even at home. If you suspect someone you know is the victim of elder abuse in Northern California, it is important that you speak up. Information about reporting California elder abuse can be found at the following website: http://www.cdss.ca.gov/agedblinddisabled/PG1298.htm. Our experienced Sacramento elder abuse attorney can provide additional guidance to help investigate and stop abuse in Northern California. We can also assist the abuse victim in recovering compensation for both physical and financial harm. Working together as a community, we can bring attention to elder abuse and help prevent this egregious wrong.
See Related Blog Posts:
Sacramento Elder Abuse Lawyer Comments on Fall Prevention in Nursing Homes
Oakland-San Francisco Elder Abuse Attorney Comments on the Reporting and Prevention of Elder Abuse