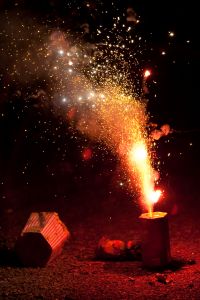 A curious twist has surfaced from Sunday's traffic-snarling fire on Yerba Buena Island as a San Francisco Fire Department official stated that the SFFD received telephone calls suggesting fireworks may have sparked the blaze. There were no reported casualties caused by the fire, but it may surprise people to know that fireworks are responsible for a significant number of injuries every year in the United States, a fact that raises burn injury, products liability and negligence issues thatSan Francisco attorney Gregory J. Brod has experience with.
Sunday's fire on Yerba Buena Island erupted about 8 p.m. near the Bay Bridge's western span and was contained in about two hours. However, eastbound commuters, many of whom were returning home from a San Francisco 49ers game, were stuck in traffic on the bridge after the fire prompted the shutting down of two eastbound lanes while firefighting crews battled the blaze. Dry, warm weather may have helped provide more ideal conditions for the fire, but reports suggest that another combustible element may have been a factor.
"We had some initial reports from telephones that there could have been some fireworks involved," said SFFD Assistant Chief Matthew McNaughton, according to KGO-TV. SFFD firefighters are in the process of investigating the fire and what triggered it.
Regardless of the final outcome of the SFFD's investigation, some facts are on the record about the perils of fireworks, according to statistics from the National Fire Protection Association and the National Council on Fireworks Safety, including the following:
Every year in the United States there are 9,300 serious injuries caused by fireworks, with an average of four deaths due to fireworks.
Forty percent of all fireworks-linked injuries in the United States are caused by illegal fireworks.
In 2011, hospital emergency rooms in the United States treated an estimated 9,600 people for fireworks-related injuries, and fireworks reportedly caused the death of eight civilians.
In 2011, there were an estimated 17,800 reported fires caused by fireworks in the United States, including 1,200 structure fires and 400 vehicle fires that resulted in direct property damage of $32 million. On average, 20,000 fires in the United States each year are blamed on fireworks.
Forty-five percent of injuries caused by fireworks are sustained by children under the age of 14.
On average, every year 400 Americans lose sight in one or both eyes due to fireworks.
In 2010, 61 percent of emergency room fireworks-related injuries were sustained by the extremities of the victims and 34 percent were injuries to the head.

Typically, injuries linked to the use of fireworks fall into either one of two areas of liability: products liability or the liability of the person, persons or group who ignited the fireworks. Fireworks fit the definition of an inherently dangerous product that common law places in situations governed by strict liability, and negligence is a key factor when assessing personal liability. An experienced personal injury attorney such as Gregory J. Brod is necessary to determine liability, and he urges anyone who has been injured or knows a loved one who has been injured as a result of the use of fireworks to contact him at the Brod Law Firm for a free consultation.
-James Ambroff-Tahan contributed to this article.
See Related Blog Posts:
When Fireworks Turn Tragic: Defective Products Law and Other Protections for Fireworks Victims