When it comes to cars versus pedestrians, it will never be a fair fight. A typical car weighs around 4,000 pounds while an average American male weighs in around 195lbs. Cars can easily top 100 miles per hours while the very fastest a person has been able to run (and for not nearly as long) is 27mph. When it is a car versus a pedestrian, the car is likely to "win" – an equation that makes pedestrian safety rules an important part of traffic safety and one of the reasons we believe so strongly in our work as a Sacramento pedestrian accident law firm. Pedestrian safety
Boy Hit By Two Cars Succumbs to Injuries
December 2013 turned tragic for a Sacramento family when, as reported by The Sacramento Bee, an 11 year old boy died after being hit by two vehicles on Bruceville Road. On Monday December 22 at 5:23 P.M., Moses Galang and another boy were running south on Bruceville when they passed through the crosswalk at the intersection with Cosumnes River Boulevard. While his companion passed safely, Galang was hit by two vehicles in a row. While the first vehicle stopped, the second did not. The latter vehicle is described as a white or light-colored full-sized van, believed to be a Ford or Chevy from the late 1970s or early 1980s. Moses was taken for treatment but succumbed to his injuries on Thursday morning.
Crosswalks & Safety: Surprising Study Results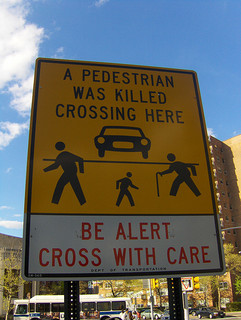 Crosswalks are considered a key element in pedestrian safety plans, but they don't always have the life-saving effect one would expect. In 2005, the Federal Highway Administration ("FHWA") conducted a study comparing marked and unmarked crosswalks. The examination focused on "uncontrolled locations" meaning there was neither a traffic signal nor a stop sign at the location. Comparing 1,000 marked crosswalks with 1,000 unmarked comparison sites, the FHWA found no significant difference in the rate of pedestrian crashes on two-lane roads in the two groups. Stated another way, without the addition of other safety devices, marked crosswalks made no apparent impact on pedestrian safety on the two-lane spans. The result held the same or multilane roads that saw less than 12,000 vehicles passing through per day. Notably, however, on multi-lane roads with a traffic volume exceeding 12,000 daily vehicles, there was a HIGHER pedestrian accident rate at crosswalk locations than was observed at the unmarked comparison sites. The increase grew to become significantly higher when there was also a raised median present on both the marked and unmarked roads.
Why? It is hard to say exactly but the authors noted that the crosswalk might have been installed at locations where there was already a higher-than-average crash rate, even though the FHWA tried to use comparable locations in the two samples. It is also possible that more pedestrians opted to cross at the crosswalk locations than other comparable sites, meaning the crosswalks were more heavily travelled than other comparable spots. This may be especially true with respect to both children and the elderly, two groups that the study noted are more likely than the average pedestrian to be crash victims at crosswalk locations. Pedestrians may also take a bit less car when crossing in a crosswalk (i.e. spend less time checking for oncoming vehicles).
Drivers: The Ultimate Safety Tool, The Ultimate Safety Threat
Of course, the crosswalk study does not mean pedestrian safety efforts are fruitless. Rather, it means we need to work on tying efforts to results. Crosswalks had better safety records when coupled with safety islands, traffic signals (for automobile and/or pedestrian traffic), extra lighting, and other traffic-calming measures. Driver education is also a vital component of pedestrian safety. No matter what safety devices are in place, they can only be effective when drivers are responsible and paying attention to both vehicles and pedestrians. Drivers themselves are the ultimate safety device and also the ultimate safety threat. Of course, pedestrians should also exercise due care, even at locations that appear pedestrian-friendly.
Attorney Greg Brod, an experienced Sacramento accident attorney, represents injured pedestrians and grieving families throughout Northern California. Call to arrange a free consultation.
See Related Blog Posts:
Protecting Older Pedestrians
S.F. Hit-and-Run Pedestrian Fatality Latest in Disturbing National Trend

(Photo by Joe Shlabotnik)