There are few activities that involve more trust than the simple act of crossing the street.  While we learn at an early age that we should look both ways before crossing, we still trust that stopped vehicles will remain stopped and that people will heed basic traffic laws.  Very few drivers set out to hurt or kill a pedestrian.  Yet, people continue to drive drunk, an act that violates the trust of every single pedestrian.  As a Sonoma pedestrian accident attorney, Greg Brod is dedicated to fighting on behalf of pedestrians hit by drunk drivers and holding drivers accountable when they violate our trust and endanger us all.
Petaluma Pedestrian Hit By Suspected Drunk Driver
Late last week, The Press Democrat reported on an accident involving a suspected drunk driver and an elderly pedestrian.  According to police, 85 year-old George Stucky was badly injured when hit while using a crosswalk at the intersection of Petaluma Boulevard North and East Washington Street in Petaluma on Thursday at 5:16 P.M.  Police say an unidentified driver was stopped at the intersection, apparently waiting for Stucky to cross before making a left turn onto Washington Street.  Allegedly, 48 year-old William Atkinson hit Stucky when Atkinson drove around the stopped vehicle in order to make the same left-hand turn.  Police suspect Atkinson had been drinking; he was transported to an area hospital for a blood-alcohol test before being booked on suspicion of felony drunk driving involving injury.  As of late Thursday, Stucky was being treated at Santa Rosa Memorial Hospital and listed in stable condition.
Pedestrian Accidents Involving Drunk Drivers: The Statistics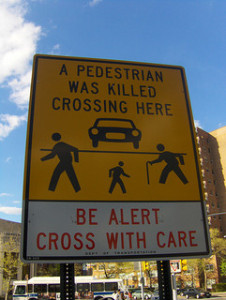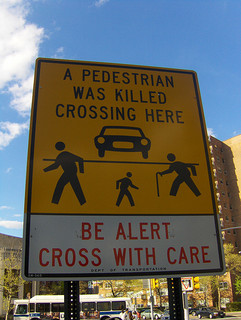 In 2013, according to a National Highway Traffic Safety Administration report  released in February 2015, 4,735 pedestrians died as a result of traffic accidents in the United States (701 in California).  Approximately 15% of these fatalities, a total of 701 pedestrian deaths, involved a driver with a blood alcohol level at or above the legal limit of .08.  There were an additional 183 pedestrians killed in accidents involving a driver with a BAC between .01 and .07, meaning the driver had been drinking but was not legally drunk.  The report does not indicate how many of the estimated 66,000 pedestrians injured in traffic accidents in 2013 were hurt in accidents involving an intoxicated driver.  However, supposing the percentage held steady between fatal and injury-causing accidents, 9,900 pedestrians would have been injured by drunk drivers over the course of the single year.
…and the Law
A drunk driver who hits a pedestrian may be subject to criminal and/or civil charges.  On the criminal side, the charges could range from a general DUI charge to a charge of gross vehicular manslaughter while intoxicated (Penal Code 191.5(a)).  In some narrow cases, particularly if the driver was previously convicted of a DUI, the criminal charge could even rise to the level of murder (PC 187).
Whether or not criminal charges are filed by government authorities, a pedestrian hit by a drunk driver and/or the pedestrian's family may have a civil claim(s) against the driver.  In a personal injury case, the plaintiff may be able to recover compensation for financial losses as well as pain and suffering.   If the pedestrian is killed, a family member may be able to recover under the detailed wrongful death statute (Civil Code 377.60).   Damages in wrongful death claims may include coverage for medical bills, funeral/burial expenses, and loss of financial and/or emotional support.  In certain cases, either a personal injury or wrongful death claim might be filed against a third-party such as a host who served the alcohol or a municipality that designed a particularly dangerous intersection.
A Law Firm for Pedestrians Hit By Drunk Drivers in Northern California
Attorney Brod has the education and experience to help victims and their families fight for their legal rights after a DUI accident.  Call our San Francisco, Oakland, or Santa Rosa pedestrian injury law offices to schedule a free consultation.  In most personal injury and wrongful death cases, our clients don't pay us a penny unless they recover monetary compensation.
See Related Blog Posts:
Crosswalks & Pedestrian Safety
Compensation & Change: Our Law Firm's Goals Following a Pedestrian Death
(Image by Joe Shlabotnik)