Living in a city, particularly a temperate one, means that walking can be a realistic option for day-to-day errands and social engagements. Walking also helps individuals improve and maintain their personal health. This is particularly true for older pedestrians who can benefit from the low-impact cardiovascular exercise. Unfortunately, pedestrians also face the threat of accidents and this risk is particularly high for older pedestrians whose bodies may also make them more vulnerable to serious injury or death. When these accidents are the result of driver negligence, our Oakland pedestrian injury law firm can help.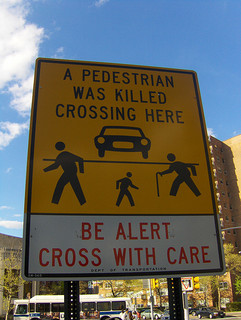 Seventy-One Year Old Pedestrian Hit and Killed in Oakland's Chinatown
Last week, according to an article in the Oakland Tribune, an elderly pedestrian was hit and killed in Oakland's Chinatown neighborhood. Police believe that 71 year old Quinoon Li was on her way to do some shopping on the morning of Wednesday September 25. She was crossing Alice Street, heading south in the crosswalk at the intersection with Ninth Street, when she was hit by a Toyota pickup truck. The vehicle was driven by an unidentified 44 year-old man from San Lorenzo who told police he had been blinded by the sun while travelling east on Ninth Street and did not see Li. Responders took Li to Highland Hospital where she died later that morning. Police released the driver pending further investigation.
NHTSA Focuses on Drivers Age Sixty-Five and Older
One of the Traffic Safety Facts reports authored by the National Highway Traffic Safety Administration ("NHTSA") focuses on individuals ages 65 and older. The most recent report, released in April 2013 and focusing on data from 2011, notes that this group comprised 13% of the total U.S. population in that year. The data report looks at a range of motor vehicle accident data. Overall, older individuals comprised 17% of all traffic fatalities and 8% of traffic injury victims.
Table One breaks down the accident statistics and notes that 845 of the 4,432 pedestrian fatalities in 2011 involved people over age 65. This is 19.1% of the total, a disproportionate figure given the 13% population share. Breaking this statistic down by gender, the older pedestrian fatalities included 522 men (16.9% of all male pedestrian deaths) and 323 women (24% of all female pedestrian deaths). All of these figures represent a lower proportion of total fatalities than were seen in 2002.
Breaking Down the Statistics and Learning From the Details
The NHTSA study included a number of interesting details. For non-seniors, 83% of pedestrian fatalities occurred in non-intersection locations while 69% of older pedestrian fatalities occurred outside of intersections. While still a majority, this distinction means older people are more likely than other individuals to be killed in an intersection. This fact may be useful in shaping safety programs, including educating drivers on watching for older people at intersections and programming signals to allow sufficient time for a senior to cross.
Further, of all the age groups studied (under 16, 16-20, 21-34, 35-54, 55-64), the 65 and older group was the least likely to have had a BAC of .08 or higher at the time they suffered a fatal pedestrian accident. Although this is only one element, it suggests that the reason elderly pedestrians are hit may be different than the reasons younger pedestrians are killed (i.e. because they stumble into the roadway from the sidewalk or, perhaps in the younger groups, play chicken with oncoming traffic). Once again, age-related differences are key to developing safety protocol.
Pedestrian Advocate Lawyer Committed to Helping, Calling on Others to Join
Just as keeping the highways safe requires the effort of every driver, keeping older pedestrians safe take a community-wide efforts. Drivers need to slow down, be aware, and remember that some people may require more time to make a crossing or may be unsteady walking on the shoulder. Passersby need to recall the lessons they used to teach at Boy Scouts and offer to help if it appears someone may have difficulty making a crossing.
We believe our work as a law firm for Panama City pedestrians is also part of this effort. We remind people that there are consequences to their actions and make sure a name and a face makes a death more real. We also help injured pedestrians and the families of those that don't make it get the compensation to make it through these trying times. Who knows, maybe the damage award will help a victim's granddaughter to get grief counseling that allows her to return to school, become an engineer, and create a traffic safety device that none of us can even dream us yet.
See Related Blog Posts:
San Jose Pedestrian Accident Claims Life of 81 Year-Old Woman
Vallejo Accident Reminds Residents of the Importance of Exercising Caution as Drivers Age
(Photo by Joe Shlabotnik)