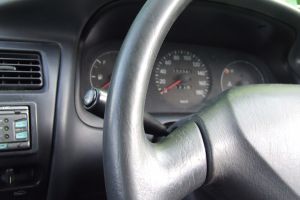 Distracted driving is a topic we discuss with some regularity here at the Brod Firm. Simply put, we talk about it often because we see it often. We see it in our own travels on the region's roadways. We also see the tragic consequences of distracted driving when we represent people whose lives have been forever altered because of a distracted driver. Cellphone use is just one form of distraction, but it is a major one and it is an issue that we need to talk about until it is no longer claiming lives and causing terrible injuries. In this post, our Santa Rosa distracted driving law firm looks at one tragic crash allegedly caused by a driver glancing at a cellphone screen and then turn to a piece of technology that police hope will aid in the fight against driver distraction.
Driver Sentenced in Case Where One Moment of Distraction Claimed Two Lives
As reported earlier this month by The Press Democrat, an area court handed down a one-year sentence for a driver charged with causing a crash that killed two women. Back in March, Nicholas Tognozzi was driving a GMC pickup at a speed when he looked down to see if he had received a text message. The brief look away from the road while travelling over 50mph left him unable to stop in time to avoid slamming into the rear end of a Toyota Camry stopped in traffic on Highway 12. Two women sitting in the Camry's backseat, Sue Hufford (53) and her mother-in-law Sharon Hufford (74), were killed instantly. Front passenger Don Hufford suffered serious injuries.
Police initially suspected that Tognozzi, a 30 year-old from Rohnert Park, was under the influence of marijuana, but tests revealed he was not impaired. The criminal court judge found Tognozzi acted with gross negligence when he took his eyes off the road in congested traffic conditions. The defendant later admitted to two counts of felony vehicular manslaughter in order to avoid a subsequent trial. In addition to the one year sentence, Tognozzi is to perform 300 hours of community services and pay more than $1 million in restitution
Police May Get a New Tool in the Battle Against Texting While Driving
CBS News recently reported on a new device that may help stop drivers from texting behind the wheel. A company in Virginia is developing a device that can detect radio signals that are emitted from a vehicle when an occupant is using a cell phone. Notably, the technology can differentiate between voice calls and texting. This is important given that Virginia prohibits drivers of all ages from texting but permits voice calls by adult drivers (vs. California which prohibits all ages from using handheld device). The device would operate much like a radar gun. Legislative approval would be needed before the device could be used by law enforcement. We imagine there will be some concerns expressed about privacy issues when this comes before the legislature.
A Team Effort
The fight against driver distraction is a multi-faceted effort. We hope that one day the problem is a distant memory or, at the least, a rare occurrence. Until distracted driving is brought to an end, we will be here for its victims. We believe civil injury and wrongful death claims serve a dual purpose of compensating those harmed by distracted drivers and reminding people that they will be held accountable for their actions.
If you or a loved one suffered because a driver in Northern California failed to give driving the attention it demands, our team can help. Call our distracted driving attorney in Santa Rosa, San Francisco, or Oakland to arrange a consultation with our experienced team.
See Related Blog Posts:
Examining the Details of Distracted Driving Law
Report Dials Home Message That Cellphone Use and Driving Is a Risky Combination