While cars are responsible for a strong majority of vehicle-related accidents, they are not the only culprit in the fatal or injury-causing accidents we see in our Northern California injury practice. All-terrain vehicle accidents ("ATVs" or "ATV accidents"), can cause serious injury or even death. When someone other than the injured is at fault, our Sonoma County ATV accident lawyer can help the injured victim or surviving family members obtain financial compensation from those responsible.
ATV Overturns, Seriously Injuring Petaluma Teen The Press Democrat reported on an ATV accident that occurred in Petaluma on Saturday and left a teenager seriously injured. Three teens were riding an ATV on private property when the vehicle overturned and rolled over onto one of the passengers, leaving him with a severely broken arm, a broken vertebra in his neck, and a severed artery. An uninjured rider called 911 and used his own shirt to staunch his long-time friend's bleeding. The injured teen underwent emergency surgery and is expected to make a strong recovery.
ATV Accident Statistics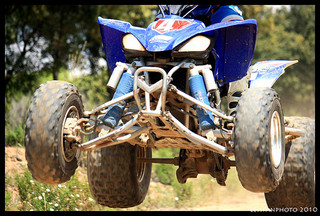 In April 2014, the Consumer Product Safety Commission ("CPSC") released its 2012 Annual Report of ATV-Related Deaths and Injuries. Through the end of 2012, the CPSC had received 12,391 reports of ATV-related fatalities between 1982 and 2012, including 353 in 2012 and 554 in 2011. Notably, accident numbers for the years 2009 to 2012 are expected to increase as reporting is finalized; in 2008, the last year for which reporting is deemed complete, there were 755 ATV deaths. Of the 12,391 reported deaths in the study period, 24% involved victims aged less than 16 years. CPSC statistics also show an estimated 107,900 ATV-related injuries treated in U.S. emergency rooms in 2012, with 25% involving children under 16.
A related state-by-state report dated August 2013 shows California saw 628 reported ATV deaths from 1982 to 2011. Again, the most recent years' numbers are considered incomplete. Focusing on the years for which reporting is deemed complete, there were 548 deaths from 1982 through 2008. Using either figure, California had more ATV fatalities than any other state
ATV Safety Tips In addition to reporting accident statistics, the CPSC's ATV Safety Information Center provides several safety tips for ATV riders. The agency recommends wearing safety gear, including a helmet and eye protection, and avoiding paved roads. They suggest children under age 16 not be allowed to drive/ride adult ATVs. The CPSC recommends against allowing passengers on ATVs that are intended for only one rider. Additional safety tips not specifically mentioned include obeying suggested maximum speeds and never riding while drunk or under the influence of drugs.
A Detail-Oriented Northern California Law Firm for ATV Accidents
Our Northern California ATV accident attorney represents victims in both personal injury and wrongful death suits. We conduct a close investigation of each accident to determine who bears factual and legal responsibility. In some cases, a company that made/sold/rented a defective vehicle is responsible. In others, responsibility lies with an individual who drove recklessly/negligently. Another scenario involves negligent maintenance of a road or path. Sometimes more than one party is at fault. A victim may have a legal claim even if his/her own negligence was a factor.
If you, your child, or another family member has been involved in an ATV accident in Santa Rosa, San Francisco, Oakland, or neighboring communities, please call. We can help you recover money from those at fault, compensation that can help you and your family move forward after tragedy.
See Related Blog Posts:
Golf Cart Accident Spurs Family to File Product Liability Suit on Behalf of Victim
Representing the Victims of Motorized Scooter Accidents in Northern California
(Image by Damien Coeffard)