There are few sounds as good for the soul as the noise of children at play. In a world where technology often keeps even young children glued to screens, it is especially heart-warming to hear kids engaged in active, outdoor play. It is important for kids to take part in physical activity, but it is also important for that activity to be safe. Scooters have been one of the most popular outdoor toys for many years, but they are also one of the most dangerous. In today's blog entry, our Oakland child injury lawyer focuses on the danger of scooter injuries, injuries that often involve defective products, careless drivers, or other forms of adult negligence.
Trio of California Scooter Deaths in Late 2014 Late 2014 saw at least three fatal scooter accidents in California. On November 11, a 14 year-old high school freshman was riding his scooter near his home in San Leandro. According to the San Francisco Chronicle a driver heading south in a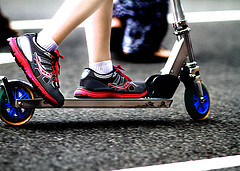 northbound lane swerved, ran a red light, and crashed into the high school freshman who later succumbed to his injuries at an area hospital. Only one day later, a 13 year-old boy was riding his scooter to school when he was struck by a car and killed in Riverside, a town about an hour west of Los Angeles. Witnesses said that driver had also run through a red light and ABC7 reported that the 44 year-old driver was taken into custody on charges of driving under the influence of prescription drugs. A third child was killed in a scooter accident on December 26 in San Bernardino County. News station KTLA reported that 12 year-old boy was playing with his new Razor-brand scooter, a Christmas gift, when he the into the path of an oncoming vehicle.
Study Blames Scooters for Increase in Toy-Related Accidents In December, USA Today reported on a study published in the journal Clinical Pediatrics that focused on the problem of toy-related accidents. The study suggests that "kick" scooters, like the foot-powered collapsible Razor scooters that have been widely popular since around 2000, were largely responsible for a 40% increase in toy-related injuries between 1990 and 2011. According to the Consumer Products Safety Commission, 52,500 children under age 15 were taken to the emergency room and one died as a result of injuries stemming from non-motorized scooter accidents in 2013 (Side note: It is unclear whether this number includes traffic accidents). The study authors and the CPSC urge parents to be sure children wear safety helmets when using scooters.
A Child Injury Law Firm for Scooter Accidents in Northern California Scooter accidents can be caused by a number of different factors. In some cases, the root cause is a defect in the toy itself. In other cases, a negligent driver bears responsibility for the accident. As a Northern California child injury lawyer, Attorney Greg Brod understands that each case is unique. Along with his team, Attorney Brod has the wide-range of experience in personal injury matters that is crucial for getting compensation for injured children and/or grieving families. If your child has been injured in a scooter accident in San Francisco, Oakland, Santa Rosa, or the surrounding communities, call to arrange a consultation. Most injury cases are handled on a contingency fee basis so there is no cost unless you or your child receive compensation.
See Related Blog Posts:
Toy-Related Injuries in the Holiday Season
Toy Safety Reminder From Your San Francisco Injury Lawyer
(Image by Pabak Sarkar)