There are few images as peaceful and serene as a cozy room adorned with oversized chairs and handmade blankets, all set before a blazing fire. Fire can be beautiful and functional; fire can also be destructive, frightening, and even deadly. Fire can leave families facing injuries and financial losses. Fire can also leave people with countless questions. In the case of a San Francisco apartment fire, Northern California tenant's lawyer Greg Brod can help renters get answers while protecting their legal rights and recovering any due compensation.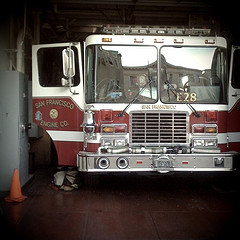 Fire Displaces Church Street Residents On Saturday afternoon, a team of San Francisco firefighters responded to a blaze at 301 Church Street, near the intersection with 15th Street. The San Francisco Chronicle reports that the initial call came in at 4:11 P.M., alerting the Fire Department to a fire burning between two buildings. Fire officials had the flames under control at 5:23 P.M., but not before the blaze grew to a three-alarm size and caused substantial damage to both apartment buildings. Luckily no one was injured (fire officials did rescue and provide oxygen to a pet cat), but an unknown number of residents were displaced by the firm. The upper levels of the two burned buildings appear to be severely damaged and uninhabitable while a third building seems to have incurred smoke damage.
An Overview of S.F. Renters' Rights Following a Fire An overview of tenant's rights after a fire under California and San Francisco laws/regulations can be found in a Home Guide: Tenants' Rights After a Fire by the San Francisco Chronicle and also in the "In Case of Fire" section of a resource page produced by the Housing Rights Committee. As with many housing issues, much of the rights afforded to tenants after a fire stem from the implied warranty of habitability. Pursuant to that warranty, landlords must repair a damaged property as soon as possible. In general, the landlord is not responsible for the tenant's personal property (renter's insurance will usually apply). However, the tenant may have a claim if he can show that the fire was caused by the landlord's negligence.
If a fire renders a unit uninhabitable, the tenant can live elsewhere and stop paying rent. A report from the local health department is usually the basis for a finding that the unit is uninhabitable. Once the landlord repairs the unit, he must notify the tenant that the apartment is ready and offer the tenant the opportunity to return. In San Francisco, Section 12.19 of the Rent Board's Rules & Regulations provides: "If a tenant is forced to vacate her/his unit due to fire or other disaster, the landlord shall, within 30 days of completion of repairs to the unit, offer the same unit to that tenant under the same terms and conditions as existed prior to her/his displacement." The landlord can only ask for a higher rent if it is approved by the Rent Board. If the landlord fails to offer the apartment back to the tenant, the renter may have a claim for wrongful eviction.
Providing Legal Counsel to Bay Area Renters We'd urge any tenant impacted by an apartment fire to obtain legal counsel before engaging in self-help. Call our office to schedule a free consultation with San Francisco landlord/tenant lawyer Greg Brod. Attorney Brod's experience in both tenant representation and injury law make him a top choice for tenant's facing the aftermath of an apartment fire.
See Related Blog Posts:
Fire Injury and California Landlord/Tenant Law (focused on fire safety)
After the Storm: The Threat of Mold After Residential Flooding
(Image by Chad Kainz)