With commercials for laptop computers and old-fashioned spiral notebooks, not to mention new sneakers and stylish jeans, there's no question that the time children dread and parents celebrate has arrived – Back to School. As classrooms throughout Northern California open, school buses ready to transport students to and from school. Although they rank as one of the safest means of transportation, a recent headline proves that school bus accidents are a reality. When drivers fail to give these vehicles the special care they deserve or when a school bus driver violates our trust and puts kids at risk, our Northern California school bus injury lawyer is ready to protect the young victims.
Suspected Drunk Driver Arrested After Hitting School Bus
Classes had resumed for just one week when a school bus travelling to Union Mine High School was hit by a suspected drunk driver. KCRA reports that 32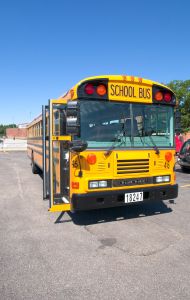 students were on board when the crash occurred on Thursday August 14 at 6:30 A.M. on Grizzly Flat Road in Somerset, El Dorado County. An SUV driven by 24 year old Steven Gruber hit a school bus on the two-lane road. Police arrested Gruber on suspicion of driving under the influence. Five students and the bus driver suffered minor injuries and two students were taken to the hospital as a precaution. Another vehicle was also involved in the incident, although it is not known whether its occupants were injured.
Statistics on School-Transportation Accidents
A June 2014 Traffic Safety Facts page from the National Highway Safety Transportation Association ("NHTSA") focuses specifically on School Transportation Related Crashes. In the studied 2003 to 2012 period, there were 348,253 fatal vehicle accidents, with 1,222 deemed school-transportation related. On average for the time span, 135 people died in a school-transportation crash each year. Most of the deaths involved adults in other vehicles. Overall, from 2003 to 2012, a total of 119 school-age pedestrians and an added 55 school-aged vehicle occupants were killed in school-transportation accidents.
A study by the Center for Injury Research and Policy ("CIRP") at Columbus Children's Hospital purports to provides a more comprehensive picture of school bus safety. Instead of focusing on fatal incidents as the NHTSA does, the CIRP study looks at a wider range of injury-causing school bus crashes and suggests school bus injuries are three times more common than previously thought. The study finds that emergency departments treat approximately 17,000 school bus related injuries every year. The report also conclude: "[T]raffic-related crashes are the leading mechanism of nonfatal school bus-related injury for children in the U.S."
Protecting and Representing Our Students
School buses are safer than many other forms of travel but, despite laws and regulations aimed at protecting the buses and their passengers, school bus accidents remain a reality. Thankfully, the recent Union Mine incident caused only a few minor injuries, mostly leaving behind a lot of rattled nerves. School bus accidents, including accidents involving passengers getting on and off the bus, can be much more tragic.
When a school-transportation crash occurs, an investigation is critical. Possible causes include: A reckless driver; A defective vehicle or part; A dangerous bus policy, or; A careless bus driver. Determining the cause is part of what we do. As a law firm for school bus injuries in Sonoma, Oakland, San Francisco, and throughout Northern California, we also help victims obtain money damages. Call to arrange a no-cost consultation.
See Related Blog Posts:
National School Bus Safety Week
School Zone Car Accident in Antioch Raises Major Safety Concerns
(Image by John Seibert)