Earlier this week, we focused on school bus safety. However, the safety of students is too important to confine to one blog entry. We all know that drivers should pay extra attention and slow down when passing through school zones. Still, far too often, drivers choose shaving a few moments off their travel time over protecting our school children and teens. When school zone injuries or fatalities stem from a driver's failure to value school zone safety, our San Francisco school injury attorney is ready to help.
SFPD Increases Safety Patrols As Students Return to School
This week, SF Weekly reported that the SFPD is stepping up efforts to target drivers who might endanger students as they return to school. Police are watching for speeders, drivers who fail to yield to pedestrians, and those who simply aren't focused on the path before them. Notably, while 42% of San Francisco elementary students live within walking distance of their school, only a quarter actually walk because of safety worries.
School zone safety has been an on-going effort. Two years ago, San Francisco became the first California city to set 15mph speed limits for school zones citywide. More recently, the SFPD became one of the first city agencies to create a plan aimed at eliminating pedestrian deaths in the next ten years through the Vision Zero program. In the first half of 2014, SFPD wrote 61% more traffic citations than in the same timeframe last year before when the plan was in effect.
School Zones & Speeding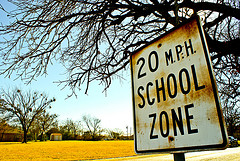 In October 2010, The Early Show investigated school zone safety, prompted by two school zone crashes that each claimed a child's life. These accidents were, as they quickly found, not isolated events. The Transportation Research Board reported 100 children die and 25,000 are injured each year when walking to and from school.
When Early Show reporters observed a Long Island, NY school zone, they found nearly every driver was speeding despite a clearly marked 20mph speed limit. Many of the observed drivers were travelling two or even three times the posted max, endangering student pedestrians and many others. The higher the speed, the longer it takes to stop. In a test, reporters found hitting the brakes at 20mph created a 23 foot stopping distance, 30mph led to a 41 foot braking distance, and 40mph travel left a 68 foot gap between stepping on the brake and coming to a stop. Adding to the danger, a crash at 30mph is eight times more likely to kill a pedestrian than one at 20mph.
School Zones & Distracted Drivers
In 2009, Safe Kids reported on another threat to school zone safety – distracted drivers in school zones. After observing more than 41,000 drivers in school zone areas, the study found that one in six drivers passing through active school zones was distracted. While cell phones were the top source of distraction, there were others including eating/drinking, reaching/looking behind, grooming, or even reading. Notably, drivers who weren't wearing their seatbelts were 35% more likely to be distracted than their buckled in peers. Flashing lights appeared to reduce the rate of school-zone distraction and drivers in states with handheld electronics bans that include all ages were 13% less likely to drive distracted in school zones than those in states with no restrictions. Importantly, the study could only evaluate observable distractions (like talking on the phone) and not those invisible to the eye (like talking to a passenger).
Representing School Zone Accident Victims
Our children are our most important asset and educating them is one of the most important investments we can make in the future. Drivers should always be alert for children, especially in areas where they congregate. While we should teach our kids about street safety, children are less able to appreciate risk and anyone who has ever seen children at recess or at school dismissal knows they frequently dart into the road. Drivers must exercise the highest level of care when passing through school zones.
If a negligent or reckless driver caused a school zone accident that injured your child or ended a young life in Northern California, call our child injury law firm in San Francisco or at any of our area offices. We can help you recover damages on your child's behalf, money that is especially critical when an injury will impact a child for a lifetime.
See Related Blog Posts:
Back to School Safety: School Bus Accidents & School Transportation Safety
School Zone Car Accident in Antioch Raises Major Safety Concerns
(Image by Al Muya)