A crash in El Sobrante this week raises important questions about passenger safety in car accidents.  Specifically, are passengers at greater risk for serious injury and/or death than drivers?  Research and our experience as an Oakland car accident wrongful death law firm suggests the answer is "Yes."  New studies on passenger safety also reveal surprising information on where in a vehicle an adult passenger is safest.
El Sobrante Crash Kills Three, Injures One
NBC's Bay Area affiliate reports that CHP officials were called to the scene of a crash in El Sobrante, near the 6000 block of San Pablo Dam Road, at around 10 P.M. on Sunday.  According to CHP, a red Camaro crossed into the opposing lane and sideswiped a silver Honda Civic.  The driver of the Civic was able to stop the car on the shoulder and did not suffer major injuries.  However, the Camaro crashed into a tree and exploded killing three passengers.  The Camaro's driver escaped before the blast, but was taken to John Muir Medical Center with serious injuries.  CHP officials believe alcohol and speed may have both been factors in the accident.
Safety of Passengers vs. Drivers
In our practice, we have seen that passengers often bear the brunt of automobile collisions.  There are fewer studies looking at passenger and driver safety than one might expect.  In 2004, researchers in Scotland reached a similar conclusion to our own, finding front-seat passengers were more likely to die than drivers (6.6% versus 5.3%) and more likely to suffer injuries to seven out of the eight studied body areas.  Compared to drivers, front passengers were more likely to incur injuries to the chest (41.4% versus 29.0%), cervical spine (6.0% versus 3.3%), and lumbar spine (7.4% versus 5.2%).   In conclusion, the authors write, "Front seat passengers are at increased risk of injury relative to drivers in actual road traffic accidents as recorded in the [Scottish trauma] database."  The study notes that the real-world analysis actually contradicts certain laboratory crash tests that suggested front seat passengers were better protected than drivers.
Safety of Adult Passengers in Front vs. Rear Seats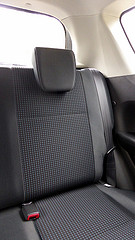 Earlier this year CBS News reported on an Insurance Institute for Highway Safety ("IIHS") study questioning conventional wisdom on where passengers are safest in the event of a crash.  While the front-passenger seat was once referred to as the "death seat," advances like air bags, improved seat belts, and crumple zones have improved front-seat passenger safety.  However, there has been far less attention paid to the safety of rear-seat adult passengers.  An IIHS researcher concluded, "For adult occupants, we wouldn't necessarily say it's safer [in the rear] anymore."
In part, the difference in attention may be because 88% of all passengers ride in the front.   That percentage is probably even higher if only adults are considered.  Adults are also be more likely to forgo a seatbelt in the back seat. (Note: We strongly recommend all vehicle occupants wear seatbelts every time they travel in a car or truck).  However, even when seatbelts were used, one study found passengers aged 55 and older were more likely to die in a crash if seated in the back.
Attention has shifted in recent years from crash worthiness to crash avoidance meaning that, although new innovations may protect all occupants, even less attention is being paid to the safety of adult backseat passengers in the event of a crash.  Still, IIHS suggests rear-seat air bags and improved seatbelt technology could help protect adult backseat passengers.  Improvements in the comfort of rear seatbelts and alerts that sound when a rear passenger has not buckled up, like those commonly used for the front passenger seat, could enhance safety by improving seatbelt usage among adult backseat passengers.
It is important to emphasize that this study is about adult passengers only.  The backseat is still the safest place for children ages 12 and under.
Helping Injured Passengers Recover Compensation
When a passenger is hurt or killed in a car accident, liability is almost always a non-issue aside from the apportioning of damages among drivers.  A passenger claim typically includes all involved drivers in order to ensure full compensation.  Damages are apportioned based on fault.
We recognize it can be a complex situation when an injured passenger or the family of a deceased passenger is forced to file a claim against the driver of the vehicle he/she was in since the driver is most likely an acquaintance if not a loved one.  We remind our clients that ultimately an insurance company typically foots the bill if the passenger is awarded compensation.
If you were hurt when riding as a passenger or if you lost a close family member who was a passenger during a car crash, we can help you recover monetary compensation.  Call our car accident injury law firm in Oakland, San Francisco, or Santa Rosa by dialing (800) 427-7020 or use the form towards the left-and side of your screen to contact our team.
See Related Blog Posts:
A California Law Firm Helping the Victims of the Hit-and-Run Epidemic
Examining Wrong-Way Highway Crashes, Protecting Wrong-Way Crash Victims
(Image by Sean MacEntee)