Wildfires continue to dominate the headlines in California and throughout our region.  For some, fires are a hard-to-watch story on the news.  For others, they are a very present danger, a threat to property and well-being.  Some wildfires are sparked by nature, but others are manmade.  Our San Francisco fire injury lawyer represents people who are injured or suffer the loss of a relative because of a manmade fire.  Attorney Brod and his team also use this blog to provide information that we hope helps prevent future tragedies.  Today's topic is fresh from the headlines — water heater fires.
Water Heater Blamed for Massive Fire
On Wednesday, officials with the California Department of Forestry and Fire Protection ("Cal Fire") identified a faulty water heater located in an outbuilding as a significant factor causing one of our region's massive fires.  According to the Napa Valley Register, Cal Fire representatives said the gas water heater sparked one of two fires that eventually became the Rocky Fire.  Flammable liquids in the outbuilding caught fire and then the blaze spread to nearby vegetation.  The Rocky Fire consumed almost 70,000 acres, caused the evacuation of 13,000 residents, and destroyed 43 homes before it was contained late last week.  Officials are still looking into the circumstances surrounding the fire and working to identify the cause of the second fire that became part of the Rocky Fire.
Other Water Heater Fires in the News
Water heaters are known to be a potential fire hazard, especially when flammable materials are stored in the vicinity.  In July, a San Antonio house fire began when a man was attempting to repair a water heater using spray-on foam.  My San Antonio reported that the man suffered minor burns.  In May, CBS affiliate WREG covered a house fire in Tennessee that investigators traced to a water heater.  Flames spread to the attic and the rest of the home.  A volunteer firefighter living in the home saved the lives of his own and the family was okay aside from a minor burn to the son's face.  A family in Ghana was not as lucky.  According to Graphic Online, two children died earlier this week in a house fire.  While the cause has not been officially determined at the time of this writing, neighbors suggest that two water heaters may have been to blame.
The Details & Prevention Tips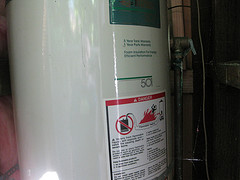 Do-it-yourself website The Family Handyman lists appliances, including water heaters and clothes dryers, among its Big 7 list of common causes of preventable home fires.  According to the site, lint in dryers and combustible materials stored near gas water heaters are the leading culprits of appliance fires which account for 7% of home fires and 4% of home fire deaths (stoves and heaters are in a separate category).  While that sounds like a small percentage, it is anything but small to those impacted by these fires.
The website suggests marking off and maintaining a three-foot "combustible free" zone around a water heater.  Other causes of water heater fires include defective equipment and installation/maintenance problems.  Always hire professionals, the cost is nothing compared to what you risk.
Fire Liability & Compensation 
When a fire is caused by the negligent or willful acts of an individual or corporate entity, the injured have a right to compensation via a civil claim.  A civil suit involving such a fire might include negligence, product liability, premises liability, and even landlord/tenant principles.  The Brod Law Firm is experienced in all these fields and is honored to help fire victims recover the money they are due.  We have offices for our fire injury law firm in Santa Rosa, San Francisco, and Oakland to serve those injured by fire and/or smoke throughout Northern California.
We will continue to watch news reports and talk to people affected by this year's wildfires.  We hope the fires stop forming and that the firefighters gain the upper-hand on those currently burning.  Our thoughts are with everyone impacted by these terrible blazes.
See Related Blog Posts:
A Discussion of Electrical Fires from Your Santa Rosa Fire Injury Law Firm
When People Cause Wildfires: California Fire Injury Attorney on a Growing Threat
(Image by Shannon Prickett)