Some activities are reserved for the thrill-seekers among us.  These activities carry a certain level of danger, but the danger can be exponentially increased by the negligent acts of a company or individual.  While hang-gliding intimidates most of us, fans call it an almost spiritual experience.  Hang-gliding accidents are an understood risk, but it is unacceptable for this risk to be elevated by negligent or wrongful acts.  Even in the riskiest of activities, victims are not without recourse.  If a Northern California hang-gliding participant in hurt or killed because of someone else's negligence, our San Francisco recreational injury law firm is here to help.
Sunday's Hang-Gliding Fatality in San Francisco Part of a Tragic Trend
On Sunday afternoon, a hang-gliding accident in San Francisco claimed the life of a 69-year-old man.  Fox40 reports that the accident occurred in the Golden Gate National Recreation Area.  The glider appears to have crashed into a cliff just 30 feet below the Fort Funston launch pad.   An early statement from the National Park service suggests the crash may have been caused by a mechanical failure.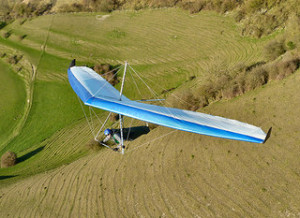 Sunday's tragedy was not the first hang-gliding fatality this summer.  KOLO 8 reported that a man was killed near Reno, Nevada on June 26 when his hang-glider crashed into Slide Mountain.  Days earlier, per the Washington Times, a man died in a hang-gliding crash in Maryland.  Another person was critically injured on May 22 in a desert crash reported by the Las Vegas Review Journal ("the RJ").
These crashes come amid continuing questions about a crash that killed a 12-year-old boy and a hang-gliding instructor on March 27 near Jean, Nevada.  Also reported in the RJ, the glider was being towed when the truck made an abrupt turn sending the aircraft crashing into the ground.   Although the accident occurred on federal lands, a statement from the Bureau of Land Management noted that the instructor did not have the requisite special use permit.
Hang-Gliding Fatality Statistics
A hang-gliding FAQ from Willis Wing, a manufacturer of hang-gliding equipment, puts hang-gliding's fatality rate at 1 in every 1,000 participants annually.  This figure includes regular participants only, meaning in Sunday's crash the child's death would not be included but the instructor's would.  Notably, Willis Wing cannot be called a disinterested party since it has a financial interest in maximizing participation rates.  Other sources state the fatality rate in different terms, but suggest a higher rate of death.  HealthResearchFunding.org (a separate entity from Health Research Funding Inc.) states a fatality rate of 1 in 560 flights.  While the site seems to suggest this rate is improving with only 2 deaths reported in 2013 versus 40 in 1974, the string of deaths in 2015 seems to call this trend into question.
Negligence Adds Danger to an Inherently Risky Sport
Many, perhaps most, hang-gliding crashes come down to bad luck or Mother Nature's hand.  Other crashes result from pilot error, although it can be difficult to say that when the pilot is hurt or killed.  However, there are also hang-gliding deaths and hang-gliding injuries that can be traced to a third-party, an individual or company whose negligent or outright wrongful behavior caused the accident.
Equipment failures have become increasingly intolerable.  We have the scientific, mechanical, and technological knowledge to build and maintain "safe gliders."  Yes, that term will always be relative, but a well-made, well-maintained glider in 2015 is safer than ever before.  Introducing a list of technological concerns, Willis Wing adds: "Hang Gliders require routine maintenance to meet the airworthiness standards to which they were developed and are sometimes subject to airworthiness advisories for inspection, configuration and maintenance."
Experience has taught us any list of parties that might be responsible for a given type of accident will always be incomplete.  That noted, parties that may be at fault in equipment-related glider accidents include manufacturers, rental companies, and repair/maintenance personnel.  Responsibility may lie with an individual or company/entity may be to blame, such as when a rental company's maintenance standards are not subpar.
Liability and Accountability in Hang-Gliding Crashes
Failing to comply with standards and/or industry practices often amounts to disregarding safety.  In most cases, this is largely a willful, negligent blindness.  Other times, it is an explicit choice, often motivated by money.  If either choice (and both are indeed choices) leads to injury and/or death, the responsible party should be held legally accountable.
If you are hurt or lose a loved one in a hang-gliding accident in Northern California and you believe another person or entity is to blame, contact our Northern California hang-gliding accident lawyer.  Attorney Greg Brod has significant experience in sports law and in fighting for people injured or grieving after other recreational accidents.  Our firm also handles all manner of aviation accidents.  We can help investigate the accident, determine the cause/causes, and hold those responsible financially accountable.  Hang-gliding, like many other activities, carries an inherent risk, but that is no excuse for negligence.
Note: Never assume a liability waiver is valid.  The validity of a waiver such as those commonly found in rental or instructional agreements is a detailed inquiry, an inquiry always worth making.
See Related Blog Posts:
Pair of Fatal Jet Ski Accidents Serve as a Reminder of the Danger on the Water
ATV Accidents: Statistics, Safety, and Legal Representation
(Image by Sarah Ward)