About a month ago, we wrote about the problem of trucks spilling their cargo endangering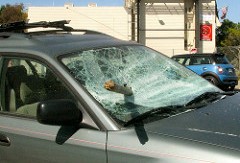 everyone on the road including travelers who drive by later and encounter a missed piece of debris.  Today, following a story with a truly miraculous ending, we look more specifically at accidents where items such as logs or beams from trucks impale windshields or otherwise endanger bystanders or even the truck driver himself.  As a truck accident law firm in Santa Rosa, San Francisco, and Oakland, we help people injured when cargo pierces a window or other barrier and we can also represent grieving families when these accidents lead to tragic death.
Miraculous Survival When Metal Beam Pierces Windshield
ABC7 reports that a male driver was travelling south on I-280 in San Jose on Thursday December 10th.   He was following behind a truck when he saw a metal beam come loose from the cargo load.  The beam pierced the man's windshield.  While surrounding vehicles prevented the driver from veering to avoid the collision, the driver ducked to avoid getting hit by the metal piece.  Despite the fact that a metal beam was sticking right through the front windshield, the driver walked away with only a scratch.  Police have thus far issues a ticket to the truck driver for spilling a load.
…And a Couple Tragic Examples of Similar Accidents
The driver in Thursday's accident was lucky; he lost his windshield but not his life or his well-being.  Sadly, accidents in which objects from trucks pierce vehicles, whether the item falls directly off the truck into the other vehicle or becomes ground debris that later causes a similar injury, often have much more tragic outcomes.  This past Spring, The News & Advance (a paper based in Lynchburg, Virginia) reported that a woman was driving a Kia at 5:45 AM on U.S. 29 when a log smashed through the windshield of her car.  The woman died at the scene, but a child in the backseat was uninjured.  Police, with an investigation ongoing at the time of their report, say they suspect the log had fallen off a truck given the physical characteristics and the fact that there is heavy logging traffic in the areas.
It is not only bystanders who are at risk from beams, logs, and similar cargo.  In Fall 2014, according to WFTV9, a truck was carrying metal beams when, possibly in response to an emergency vehicle n route to an active emergency, the truck driver stopped short.  This caused the load of metal beams to shift and one beam came loose and crashed into the truck's cab, crushing and killing the driver.
Cargo Regulations for Trucks
As we noted in our previous discussion, shippers and driver must comply with the Federal Motor Carrier Safety Administration rules and other industry regulations regarding loading and securing any cargo,  Requirements might specify a minimum number of tie downs, require that cargo be unable to shift or roll, require cargo be capable of handling certain accelerations and other expected movements, and include special rules for certain products (e.g., rules for logs include banding requirements and load size limits).
Who Is at Fault in Cargo-Pierce Accidents?
Although violations of these standards do carry a fine, it typically requires a civil lawsuit for the injured and/or the grieving to recover compensation.  The key to these cases is identifying how the accident occurred and who is responsible.  A few of the parties that may be responsible when beams or similar cargo pierce windows and injure people include:
The Driver – The driver is expected to check his cargo before departing and regularly during the trip. Even where the driver is responsible, the company may bear the financial damages.  Pursuant to the principle known as "vicarious liability," employers are typically liable when an incident occurs during the course of employment (See California Civil Jury Instruction 3701  https://www.justia.com/trials-litigation/docs/caci/3700/3701.html).

Note: If the driver is the injured party, comparative liability principles may allow the driver to recover compensation based on the degree of fault of each involved party.

The Trucking Company –The company may also be directly liable if it provided inadequate instruction or had policies encouraging dangerous acts such as promulgating inadequate policies on securement or provided shoddy tie-down equipment.
A Third-Party Loader – Some trucking companies use a third-party to load cargo. If that company's errors led to the accident, they may be liable.
Parts Companies – If the problem was a malfunctioning tie-down, defective trucking equipment, or similar issue, that company may bear the liability.
Help for Northern California Cargo Accident Victims
When cargo shifts and punctures a window, tragedy often follows.  The process of getting financial compensation can be difficult and it is not one you should go alone.  Our San Francisco truck cargo accident lawyer can help victims uncover evidence, determine who is legally responsible, and pursue the compensation you deserve.  Remember, a consultation is free and most injury cases are handled on a contingency fee so you only pay if you recover
See Related Blog Posts:
Cargo Spills: Northern California Truck Accident Lawyer on the Danger of Unsecured Truck Loads and Shifting or Spilling Goods
Bay Area Lawyer on the Danger of Big-Rig Crashes
(Image by Flickr user torbakhopper (cropped from original))