Just the name can make your skin crawl, but clients tell us the reality is far worse than they ever could have imagined.  Bed bugs fall in and out of the headlines, but they remain a very real problem impacting Californians.  The pests do not discriminate, attacking people of all ages, races, classes, and creeds.  In fact, as a recent news report illustrates, they aren't even confined to beds!  As a bed bug law firm in San Francisco, Oakland, and Santa Rosa, The Brod Law Firm helps people who are afflicted with these pests because of someone else's neglect, such as a tenant coping with repeated infestations because a landlord fails to act responsibly, ignoring the problem entirely or taking ineffective, limited action rather than the swift intervention needed to eradicate the bugs for good.
Bed Bugs Cause Temporary Closure of Palo Alto Library
Last week, per NBC Bay Area, Palo Alto temporarily shuttered one of its public libraries because of a problem more often associated with housing than libraries – bed bugs.  In addition to closing the Mitchell Park Library to treat the pests after they were spotted on two chairs, the city sent bed bug-sniffing dogs to other branches of the library system.  As NBC noted, libraries are actually not unusual spot for bed bugs to hide.  The pests hitch a ride on a borrowed book, moving from one home to the library and potentially the home of another patron.  Increased travel, pesticide resistance, and the use of ineffective pest control practices have all been implicated in the recent spike in infestations.  Contra Costa Health Services denied a rumor blaming the homeless for the library infestation, noting there is no link between cleanliness and the pests although clutter does allow an infestation to grow.
Bed Bugs Generally
According to Santa Clara County Vector Control District, one of a dozen districts in Greater San Francisco focused on pest control, bed bugs are tiny insects that evolve from eggs to nymphs the size of poppy seeds to adult bugs approximately one-quarter inch long with reddish brown flat bodies.  Bed bugs cannot fly, instead crawling and often being carried by a host from one location to another.  While they do not transmit disease, bed bugs feed on blood and their bites can cause itchy red spots or larger welts in sensitive individuals.  Bed bug bites can become infected if scratched.
Each year, Orkin ranks U.S. cities based on the number of bed bug reports.  While Chicago tops the 2014 Bed Bug Cities List for the third year in a row, the San Francisco-Oakland-San Jose region jumped three spaces (in the "wrong" direction) to number 16 and the Sacramento area made a double-digit jump to 27 from 41 in 2013.
Bed Bugs and California Law
California Civil Code section 1941 requires landlords to maintain all rental units in a habitable fashion, an obligation that includes ensuring units are free of vermin.  In general, California law holds landlords responsible for the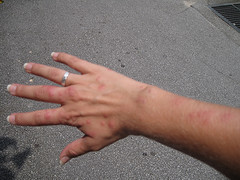 costs of bed bug eradication.  Effective bed bug treatment in multi-unit buildings often requires inspecting and treating units adjacent to those known to be infected, as noted in a memo from the Environmental Protection Agency titled What Landlords Need to Know about Bed Bugs, and failing to do so can lead to re-infestation.  Tenants should be prepared to cooperate with eradication efforts and maintain an uncluttered home to help limit the places where bugs can hide.  We are watching a bill pending in the California legislature that would further spell out the duties of landlords and tenants.
In some cases, human actions can prolong, exacerbate, or even initiate a bed bug infestation.  If you are in Northern California and your landlord is not responding effectively to your complaints about bed bugs, call our San Francisco tenants' bed bug lawyer.  We are prepared to file claims against both private and "public" landlords (i.e., housing authorities, etc.) as well as any other parties responsible for an infestation.
See Related Blog Posts:
The Mental and Emotional Toll of Bed Bugs
California Bedbug Lawsuits: Damages, Compensation, and Class Actions
(Image of back by Richard Thomas, Image of hand by snowflakegirl)