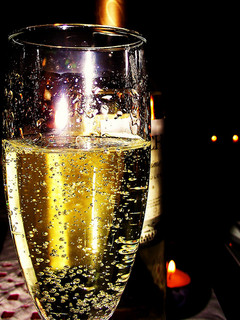 Perhaps it is a bit cliché to discuss the dangers of drinking and driving on New Years' Eve. In a perfect world, there'd be no need for such a reminder because people would put safety first and would never step behind the wheel after drinking. In this perfect world, our San Francisco injury law firm would not see the innocent victims who are facing serious, lifelong injuries because of a drunk driver. There would be no need for us to help grieving family members because their loved one would be alive and well if the drunk driver had handed over the keys. Sadly, ours is not this ideal world. While New Years' Eve is not the most dangerous holiday for U.S. drivers, Thanksgiving actually holds that distinction, it is still a night associated with late-night parties and overindulgence in alcohol. So, in this imperfect world, it is still important to discuss the dangers of drunk driving before the festivities begin.
Drunk driving is not a new topic for this blog. With this post, we hoped to find just the right piece of information to convince even just one person to decide not to mix alcohol and driving. The boldfaced statistics below are from Mothers Against Drunk Driving, we've added a bit of additional thoughts from our perspective as a law firm for drunk driving victims:
• Twenty-seven people die in the U.S. every day as a result of drunk driving accidents. Car collisions are the leading cause of death among U.S. teenagers, with 1/3 of those accidents involving alcohol. – Each fatality leaves behind grieving loved ones, struggling to cope with both the emotional and financial toll of an unexpected death.

• In 2010, 211 children lost their lives in drunk driving crashes. Of these, 131 were a passenger in a vehicle driven by an impaired driver. — Reread the latter statistic. 131 children died while riding with a drunk parent, drunk friend, or other trusted individual. Consider your own actions and consider who else your child rides with, including friends of teens.

• The FBI reports that more than 1.41 million drivers were arrested for DUIs in 2010. The CDC estimates that 112 million adults stepped behind the wheel after drinking too much in 2010; this translates into approximately 300,000 people drinking and driving every single day. – These statistics represent millions of accidents waiting to happen, some minor but many likely to result in catastrophic injury or death.

• The NHTSA found that a third of all drivers charged or convicted of a DUI offense are repeat offenders. – Sometimes it seems like some people do not intend to stop drinking and driving until they hurt someone. It is particularly heartbreaking to work with an injured victim or a grieving family member who learns the driver who caused the crash had prior DUIs but still continued the behavior.

• Alcohol is metabolized with time and nothing but time can make someone "sober up." – Often people underestimate how long alcohol impairs their functioning. A person who is out drinking until the wee hours of the morning may still be impaired when the morning commute rolls around. Coffee or a shower may make him an alert drunk, but he's still drunk, still impaired, and still a danger on the road.

• Per the NHTSA, drunk driving costs the nation approximately $132 billion per year. – This figure does not include the intangible loss to individuals, families, communities, and society as a whole. The civil court system plays a vital role in putting some of these costs where they belong, making sure the drunk driver compensates the victim for the expense of injuries or death. Courts can also provide monetary damages for some of the non-economic losses, although no money can ever truly undo the damage.

• According to the NHTSA, 9,878 people died in drunk driving incidents in the U.S. during 2011. – Nearly 10,000 families were left grieving. Many of these families also faced unexpected financial burdens due to medical bills, final expenses, and lost income. We can help these families. We are proud of our work helping drunk driving victims in San Francisco and throughout Northern California. But it would be a much better world if no one was left mourning a life lost and no one was left facing catastrophic injuries as a result of drunk driving.
May your New Year's Eve and all of 2013 be happy, healthy, and safe.
See Related Blog Posts:
The Civil and Criminal Implications of a California DUI
Understanding Blood Alcohol Content in the Aftermath of a Fatal Single-Car Crash in Berkley
(Photo by Paloma A. Rojas)