When an employee is injured on the job in California, as in most U.S. jurisdictions, workers' compensation is a key part of their financial recovery. However, despite often being referred to as an "exclusive remedy," there are many situations in which the employee has recourse beyond that offered by the workers' compensation system. While suits against the employer are sharply limited, the workers' third-party liability claims remain. For example, when the worker is injured due to a defective product, a claim against the manufacturer or seller may exist. In such cases, as in other third-party liability situations, our Northern California products liability attorney can help fill the gaps left by workers' comp coverage.
Two Days, Two Sets of Stranded Window Washers in California
Twice in as many days, window washers were left dangling from California high-rises and two stories that could have ended tragically had happy endings. On Wednesday, NBC Los Angeles reported that two window washers were stranded on the side of an office building at 5 Park Plaza in Irvine, California. The pair had been using a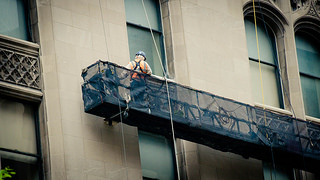 metal platform suspended on cables when they became stuck about 225 feet from the ground. An urban search and rescue team lowered additional cables to the "swing stage" platform and the workers used hand-operated cranks to rise to the roof. Despite the heat of the day, neither worker was injured.
Strangely, a similar tale unfolded the next day in Oakland. According to the Contra Costa Times, two window washers were left stranded on Thursday and spent nearly two hours outside the 19th floor of 111 Broadway before people inside realized something was amiss. It appears a motor on their platform had broken rendering it immobile. A rescue worker rappelled down the side of the building to bring the workers extra harnesses that allowed rescuers to hoist the workers to safety on the roof.
The Workers' Comp System & Third-Party Claims: An Overview
Thankfully, neither of the window washer incidents resulted in an injured worker, but on-the-job injuries are all too common. The workers' compensation system creates something of a compromise, workers give up the right to sue their employer and in return receive assured, but limited, coverage (See The Guidebook for Injured Workers, a state-authored overview of the system). While workers are generally unable to sue their employer after an injury (and the same limit applies to families after a fatality), they may still be able to recover from a third-party in a more traditional injury suit. A common example is where the worker's on-the-job injury was a result of a defective product made or sold by the third-party. For example, if the window washers were working for ABC Inc. when they were injured due to a faulty rig made by XYZ Corp, the worker would have a workers' comp claim and could sue XYZ Corp. in a product liability suit.
The Workers' Comp System & Third-Party Claims: The Money
Importantly, this doesn't mean you get paid twice for the same damage. If the workers' compensation system has paid you for an element of damages, say for $4,000 in medical bills, workers' comp has a lien on money you receive from the third party for the same bills. So, if you also won the $4,000 in your products liability claim, that money ends up going to workers' compensation, not you.
So why file a third party claim? For the things workers comp doesn't cover. Workers compensation doesn't pay punitive damages, doesn't pay money for pain & suffering, and only provides partial wage replacement. Depending on the exact contours of the case, a third-party claim such as the claim against XYZ Corp. above can cover all of those things. This can be a substantial amount of money and it is money that does NOT need to be repaid to workers' comp.
Providing Complete Compensation for Injured Workers
If you were injured on the job in Northern California and the injury was due to the negligence or wrongdoing of a third party (such as selling an unreasonably dangerous washers' rig), you may have a claim against that third party. These claims can result in substantial damages and provide compensation for the very real losses that workers' compensation doesn't cover. It can be confusing, but that's why we are here. Our Oakland injury attorney, with additional offices in San Francisco and Santa Rosa, can help clarify your unique situation and help you recover all the compensation you deserve. We can also help families of workers killed on the job recover in similar third-party suits, claims that are critical given the limited death benefits provided by workers' compensation.
See Related Blog Posts:
On Labor Day San Francisco Personal Injury Lawyer Reflects on Workers' Compensation, Workplace Safety
Mechanic Death Highlights Issue of Oakland Workplace Fatalities
(Image by Jeffrey Zeldman, does not depict either news story)