Last week our San Francisco based attorney wrote on a tragic accident in San Francisco when a biker collided with a 71-year-old man in the Castro district. While in that instance, the bicycle rider seems to be at fault in the accident, collisions involving bicyclists are not always caused by them, nor are they necessarily at fault. This week, we will look at collisions between bicyclists and automobiles.
Collision between pedestrians, bikers, and automobile drivers is not uncommon, especially in areas of dense population like San Francisco. Whether because of unfortunate circumstances, carelessness, or failure to follow road rules, accidents occur. It is the most unfortunate however, whenever a fatality occurs.
A couple of months ago, a woman, later identified as Diana Sullivan, a San Francisco native, was hit by a concrete-mixing truck while riding her bicycle. This occurred early Saturday morning in front of AT&T Park. Both Sullivan and the truck were heading westbound on King Street when they collided near the intersection of Third and King Street. Sullivan was taken to San Francisco General Hospital with life threatening injuries and was pronounced dead later that day. The driver was not cited and police do not believe drugs or alcohol were a factor in the accident.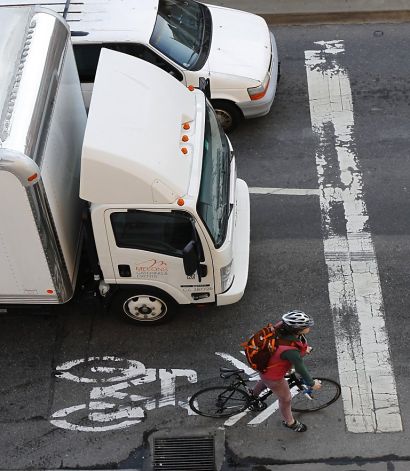 The area around the Embarcadero and King street has been a source of many accidents in the past decade. From 2003 to 2011, the intersection of King and Third streets had two pedestrian vehicle accidents as well as three bicycle vehicle accidents resulting in injuries to the extent that required police response. A street over on King and Second, two pedestrian vehicle collisions and four bicycle vehicle collisions occurred over the same period of time.
This area is immensely popular as it is home to AT&T Park, the baseball stadium where the San Francisco Giants play. However, it can also be quite dangerous, especially for cyclists. Along the Embarcadero, there are dedicated bike lanes that separate bicyclists from cars. Past Second Street though, the bike lanes disappear midblock between Second and Third Streets, and cyclists and automobiles are expected to share the lanes. The area is usually congested and Ben Jose, a spokesman for the San Francisco Municipal Transportation Agency's Livable Streets unit, said the agency usually receives more complaints about the dangers of King Street from pedestrians rather than bicyclists. The agency will have to look into increasing safety signs in the area or putting up additional signs indicating where bike lanes disappear after this tragic accident.
The bay area is home to many bicyclists and thus, many bike accidents. Just across the bay in the city of Berkeley, 819 bike crashes have been reported in the past five years, the highest count of any Bay Area city. Drivers who make improper turns and cyclists who are riding too fast for their safety contribute to the high number of accidents. Berkeley has started to make commuting by bike safer, including establishing bicycle boulevards, side streets that are designated with less traffic and more room for cyclists.
The best way cyclists are able to avoid accidents is to continue to be alert and vigilant followers of safety rules of the road. This includes riding at safe speeds for their conditions, following all traffic signs and road rules, and wearing helmets. Additional habits are to remember to signal when turning, not driving alongside cars in order to prevent being in a car's blind spot, and using reflective tape and lights to be visible to cars. As we all know though, not all accidents are preventable or avoidable. The Brod Law Firm has successfully represented many clients in bicycle collision cases. If you are a cyclist who has been injured after a collision with an automobile, contact our firm today, to discuss your rights to compensation. Roads are shared equally between all citizens and if you have been injured, you have every right to claim compensation for damages and recovery.
Sources:
Bike Accident Tracker
SF Gate: Woman on Cycle Dies in SF Truck Crash
Bicyclist Crash Rate High Near UC Berkeley
Photo: Paul Chinn, The Chronicle