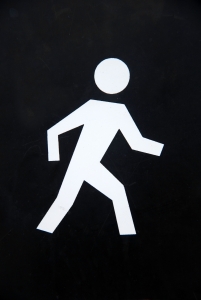 Our San Francisco car accident attorney knows that motor vehicle accidents come in all shapes and sizes. Perhaps the most typical accident involves two cars that collide into each other. But crashes involving just one car occur on a regular basis as well. Depending on what the car hits, the results can be extremely serious. When a car hits a pedestrian, especially a young child, the potential for heartbreak is even greater.
Fortunately, it appears that the child victim of a recent San Francisco pedestrian accident will recover. As was recently reported in the Mercury News, an eight year old boy was hospitalized after he was struck by a car in the Western Addition neighborhood of San Francisco. The accident took place at around 3:45 pm last Friday afternoon at the intersection of Laguna and Turk streets. The youngster was crossing the street when he was struck by a car. The driver stop to assist and the boy was taken to San Francisco General Hospital. His injuries are not considered life-threatening. Police are investigating the accident.
In incidents like this, depending on the results of the investigation, a lawsuit may not be warranted. But in the event that the analysis of the accident shows that the driver failed to take proper precautions, the victim and his family may decide to file a negligence suit. A negligence suit is a classic example of a civil suit. In a civil suit, the case is initiated by a private party. This is in contrast to a criminal suit, which is always initiated by the government.
In addition to having different initiators, civil and criminal suits have different punishments. A defendant in a criminal case can end up in jail but a defendant in a civil case is only required to pay monetary damages. But civil and criminal suits have many similarities. The violation of a law can be critical in both. For example, if a pedestrian is hit because a driver was speeding, the driver can be found criminally liable for breaking the law. Evidence of speeding can also be used in a civil case. Speeding can be per se evidence of negligence. In layperson's terms, the fact that someone broke the law can be automatic evidence that they violated the duty of care, an essential element of all negligence suits.

At the Brod Law Firm, our San Francisco car accident lawyers are knowledgeable about local, state and federal traffic laws. In the event of a motor vehicle accident, we can examine the facts and determine if there were any laws broken and if the broken laws can serve as evidence that the driver was negligent. Not all San Francisco pedestrian accidents justify a lawsuit. Sometimes an accident is just a horrible mistake. However, not consulting with a lawyer may mean forfeiting legal rights. If you or someone you know was hit by a car, please contact us. We can evaluate your case and determine what steps you should take to preserve your legal rights.
See Related Blog Posts:
Sacramento Boy Hit by FedEx Truck Near His School
Outer Mission Pedestrian Accident Takes Life of San Francisco Man