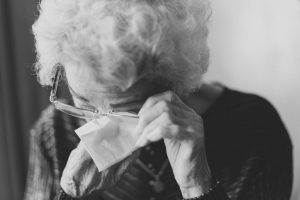 A California woman and her daughter were recently charged with financial elder abuse for coercing the woman's long time boyfriend into signing away the deed to his residence when he clearly lacked the capacity to do so. The two women are also alleged to have forged medical documents in order to facilitate the transfer of the property. Unfortunately, circumstances like this are not rare. In fact, a majority of financial elder abuse is committed by individuals known to the victim, such as family members. If you have been victimized by a loved one or suspect that someone you know is being victimized by financial elder abuse, contact the elder law attorneys at Brod Law Firm today to learn how we can help.
What is Financial Elder Abuse?
Financial elder abuse is a type of elder abuse that involves the misappropriation of funds. Sadly, the majority of financial elder abusers are family, friends, and acquaintances of the victim. While elderly individuals with alzheimer's and dementia are at a particularly high risk, any unsuspecting elderly individual can fall prey to financial elder abuse.
How can You Detect Financial Elder Abuse?
If you suspect that you or a loved one may have fallen prey to financial elder abuse, look for the following signs to confirm your suspicion:
Unexpected changes to your or your loved one's bank account, including unaccounted for withdrawals

A new friend or acquaintance who offers to help make decisions on your or your loved one's behalf

Unexpected transfer of assets to a friend or family member

Sudden changes to a will or other important financial document

Emotional symptoms, such as depression, withdrawal, anxiety, or extreme irritability
How can You Stop Financial Elder Abuse?
The best way to fight financial elder abuse is prevent it from happening in the first place. If you are an elderly individual, make sure you have a strong support system of people you can trust around you. Do not assume that just because someone is family that they have your best interests in mind. Make sure you seek out family or friends you can actually trust.
If you have elderly loved ones, make sure you help them put a strong support system in place. Do not let new friends or acquaintances step into your loved one's financial affairs just because your loved one tells you they are trustworthy. Particularly generous and unsuspecting elderly individuals are especially at risk of being taken advantage of by someone close to them.
Contact a California Elder Abuse Lawyer Today
If you believe you or a loved one has been the victim of elder abuse, call the attorneys at Brod Law Firm today to seek justice for yourself or your loved one. Our attorneys have helped elderly individuals who have been taken advantage of obtain the full recovery they deserve and regain financial security in their lives. Contact us today at (800) 427-7020 or visit us online to schedule your free consultation.
(image courtesy of Jeremy Wong)