There is no such thing as a simple automobile trip. Driving is a complex task, a truth we are constantly reminded of in our work as an Oakland car accident injury law firm. Drivers must focus on the mechanics of operating a vehicle while staying alert to the presence of other drivers, bicycle riders, motorcyclists, and pedestrians. A driver needs to be able to watch for signs, signals, and road conditions, while filtering out a flurry of potential distractions from a ringing phone to a noisy radio, from eye-catching billboards to bickering children in the backseat. Drivers also need to be alert for the unexpected, including the topic of today's post – road debris, with a particular focus in this entry on vehicle-related debris.
Crash Blame On Runaway Tire
On Thursday, a car accident on Highway 4 in Pittsburg left at least one person injured according to a report by The Contra Costa Times. The single-vehicle accident occurred around noon on the eastbound off-ramp at Railroad Avenue. Witness reports suggest that a runaway tire flew into the path of a blue Cadillac, hitting the car's front windshield. Early speculation is that the tire may have come from the westbound side of the highway. California Highway Patrol Officer Ron Simmons confirmed that no other cars were involved and that ambulances were called to the scene. It is unclear how many people were in the Cadillac at the time of the incident.
Study Looks at Vehicle Debris Statistics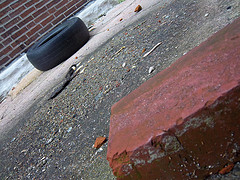 In 2004, the AAA Foundation for Traffic Safety, an independent charitable organization focused on highway safety and accident prevention, released a study looking at Vehicle-Related Road Debris ("VRRD"). VRRD is defined as material inadvertently dropped from a motor vehicle onto the roadway, including. According to the study, each year in North America there are approximately 25,000 crashes as a result of VRRD. While usually these accidents are less severe than other types of collisions, VRRD-related crashes claim 80 to 90 lives per year. Relying on surveys of Canadian and U.S. road authorities, the Foundation reported that the most common type of VRRD on the roads are: Tire treads; Garbage that fell from waste trucks; and Lumber of other construction-related materials. The list of the materials responsible for the highest number of fatal VRRD accidents includes: Unidentified debris (22%); Separated trailers (15%); Tires/Wheels (13%); Treads (7%); and Metal (6%).
Preventing Vehicle Debris Accidents and Helping the Injured
In addition to looking at VRRD statistics, the Foundation also sought to make recommendations for preventing VRRD accidents. This includes education aimed at preventing VRRD from dropping onto the road by instructing motorists on how to secure bulky loads, teaching commercial drivers how to inspect their loads, and teaching fleet maintenance workers to prevent tread separation. They also recommend the teaching of defensive driving skills.
If you are injured in a vehicle debris accident in Panama City or lose a family member to such a crash, please call our firm. You may have a number of civil law claims such as claims against the driver whose vehicle lost the VRRD or, where the VRRD fell from a commercial vehicle, claims against the company that owns or operates the vehicle. Call our Oakland road debris accident lawyer and take the first step towards recovering needed money damages to help with medical bills, cover lost wages, and compensation for pain and suffering.
See Related Blog Posts:
Fatal Single-Vehicle Crash Serves as a Reminder of the Threat of Dangerous Road Conditions
Dangerous Condition of Public Property- Tort Claims Against Government Entities

(Photo by Eric Weisser)