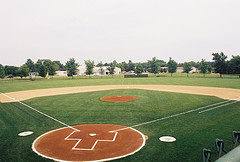 While most sports fans in the U.S. are currently focused on football, there is plenty going on behind the scenes in another one of the nation's favorite games – baseball. Managers are meeting and honoring greats of seasons past with Hall of Fame announcements while also planning for the 2014 season with trades and other roster changes. The meetings also offer a chance for baseball's leadership to discuss important issues impacting the sport, such as the threat of serious injuries. Although they don't get the attention that surrounds injuries in football and other heavy-contact sports, baseball injuries can be serious and can affect players from the Major Leagues all the way down to the tee-ball set. A passionate sports fan and experienced industry professional, Attorney Greg Brod serves as a San Francisco sports injury lawyer and helps youth and adult players obtain compensation when bad policy, defective equipment, or reckless decision-making lead to serious and unnecessary injuries.
Giants Manager Focuses on Danger of Home Plate Collisions
Bruce Bochy, manager of the San Francisco Giants since 2006, hopes that the winter meetings not only help him build a great roster for 2014 but also provide an opportunity for discussing an injury-preventing rule change. According the San Jose Mercury News, Bochy began seriously contemplating a rule change relating to home plate collisions in 2003. He was serving as the manager for the San Diego Padres when Brian Jordan of the Los Angeles Dodgers collided with Padres' catcher Gary Bennett. Bochy initially feared Jordan might have been paralyzed by the impact which ultimately sidelined him for a month. On May 25, 2011, Bochy was again face-to-face with the problem when Giants' catcher Buster Posey suffered a serious ankle injury and broken fibula following a home plate collision (see the San Francisco Chronicle's report on the injury).
Bochy, a former catcher himself, plans to speak to MLB managers and general managers about the danger that threatens dozens of catchers each season. Along with Mike Matheny, the St. Louis Cardinals manager and another former catcher, he hopes to encourage a rule change that will ban collisions with defenseless catchers. Although Bochy was not sure of the specifics of the rule, he and Matheny have both said that baseball needs to take a lesson from other sports and work on preventing concussions and other serious injuries.
Baseball Injuries Overall
Baseball injuries are more serious than many realize. Citing a Consumer Product Safety Commission study, the University of Rochester Medical Center reports that in 2009 nearly 110,000 young people between the ages of 5 and 14 received emergency room treatment for baseball-related injuries. Notably, baseball actually has the highest fatality rate of any sport for 5 to 14 year olds with three to four children dying every year as a result of baseball injuries. At the professional level, a study published in the American Journal of Sports Medicine found that 438.9 players were put on the disabled list annually, based on data from 2002 through 2008. These statistics leave out the high school, college, and amateur adult players, groups we'd expect have seen a growing number of injuries as play and training schedules have gotten ever more intense.
When Sports Injuries Should Give Rise to Injury Litigation
We know there is a certain degree of inherent risk undertaken by any athlete. We do not think every injured player should bring a civil lawsuit. However, when leagues rules specifically ignore a known risk, especially a risk that is not necessary for competitive play, an injured player may have a viable legal claim. If a couch pushes too hard, if a trainer ignores an obvious injury, or if defective equipment played a role, the injured player can and should seek compensation. Sports injuries can be crippling or even lethal and unnecessary injuries should not be accepted as the price of playing the game. We offer a San Francisco, Oakland, Santa Rosa, and San Jose law office for sports injuries in Northern California. Call for a free consultation.
See Related Blog Posts:
California Concussion Law Takes Effect January 2012, Increasing School Liability
Youth Sports-Related Injuries by the Numbers: a Hefty, Growing Toll

(Photo by Barbara Moore)