Wheelchair users, whether using an assistive device for a short period or long-term, can face numerous obstacles in daily living.  Access has certainly improved in recent decades, but it remains a real problem even in a progressive state like California.  Even more important, however, is the issue of safety.  Car accidents involving wheelchairs are a real threat and we must hold drivers responsible for endangering wheelchair users just as we would drivers who endanger pedestrians on foot.  As a San Francisco wheelchair users' law firm, we understand how much these cases mean for the individual involved, for the greater community of individuals with disabilities, and for everyone who recognizes that all of us are unique and we all deserve to be able to travel safely regardless of our physical characteristics.
Wheelchair User Critically Injured in Hit-and-Run
On Saturday, according to the San Francisco Chronicle, a traffic accident critically injured a 72-year-old man who was using a wheelchair at the time of the crash.  Witnesses called police to the intersection of Alhambra Avenue and Virginia Hills Drive in Martinez around 4:15 PM Saturday reporting that a driver had hit a pedestrian and then fled the scene.  Upon arrival, officers found the victim lying in the roadway.  The injured man was taken to a Walnut Creek hospital and reportedly in critical but stable condition as of Saturday night.  Police located the woman they believe was the driver a short distance from the scene and placed her under arrest.
(Under-Inclusive?) Statistics on Wheelchair Users and Traffic Accidents
In a Traffic Safety Fact Sheet published this past summer, the National Highway Traff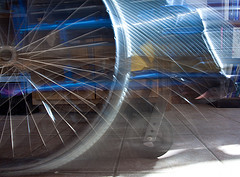 ic Safety Administration says 28 people were struck by vehicles while seated in wheelchairs in 2013.  This number is consistent with the average number of non-occupant wheelchair users killed in motor vehicle accidents from 2007 to 2013.  Although a small percentage of the total number of people killed in car accidents, this number may be under-inclusive (a quick Google search brings up numerous news stories involving wheelchair users hit by cars), does not account for non-fatal injuries, and does not tell us how much more dangerous the roads are for wheelchair users than for other pedestrians.  Another frightening statistic in the report, California saw 7 of the 28 reported fatalities of wheelchair users in 2013.
Factors In Traffic Accidents Involving Wheelchair Users
Several factors contribute to motor vehicle accidents involving individuals using wheelchairs.  ITARDA, a Japanese agency that gathers and analyzes traffic accident data, released a report in 2004 that examines accidents involving electric wheelchair users, a growing subset of all wheelchair users. The report notes that 28% of traffic accidents that involved an electric wheelchair occurred at crosswalks and some 58% occurred at intersections.
ITARDA identifies three features of traffic accidents involving individuals using electric wheelchairs: 1) Wheelchairs place an average-sized rider at a lower height than a bicycle rider, making it difficult for drivers to see wheelchairs; 2)  Electric wheelchairs cannot speed up quickly, making it difficult or impossible for a user for observes a potential threat to get out of the way; 2) Although wheelchairs in Japan are treated as pedestrians (as they are in California), users may leave the sidewalk and travel on the road if the sidewalk is too narrow or contains obstacles.  This third concern is also addressed by a report from disability advocate resource Ragged Edge Online that focuses on the danger wheelchair users face when they are forced to travel in the street because the sidewalks lack the necessary curb cuts to allow them to access the pedestrian route.  The author states: "Wheelchair users nationwide risk their lives daily by being forced into the street because their communities, despite the Americans with Disabilities Act, have not bothered to install curb cuts or maintain sidewalks."
A Brief Discussion of Damages
A quick note about damages – California, like most states, recognizes the "eggshell plaintiff" rule.  In essence, this rule means a defendant takes the victim as he finds him.  This means that someone who caused an accident is responsible for the victim's injuries even if the plaintiff's health conditions meant he or she suffered a more serious injury than a typical person would incur under similar circumstances.  This rule, summarized in California Civil Jury Instruction 3928, can be very important for people who use a wheelchair because of conditions that make them susceptible to injury.
A Lawyer for Injured Wheelchairs Users
Every accident is unique and focusing on the details is essential to understanding what happened and who is responsible.  Whether the problem is an inattentive driver or a community's dangerous roads, our Northern California wheelchair accident law firm helps wheelchair users and their families following traffic accidents.  We can also help wheelchair accidents are caused by product defects such as a faulty power system in an electric wheelchair, a defective lift, or inadequate systems to secure a wheelchair in a moving vehicle.  Call for a personal consultation.
See Related Blog Posts:
Disabled Person Seriously Injured in San Francisco Intersection
The Daunting Task of Making San Francisco Muni Safer and Fiscally Fit
(Image by Roger H. Goun)