Imagine a DUI crash in which a child is one of the innocent victims injured or killed because of the driver's intoxication. When asked to consider this tragic scenario, most people probably imagine a lone drunk driver plowing into a family vehicle. However, there's another scenario that may be even more upsetting to consider — when the drunk driver and the child are in the same car. While California's criminal laws rightly impose extra penalties in such cases, it is the civil law that can truly provide for the victim. As a child injury lawyer in Northern California, Attorney Brod understands the unique contours of these cases, knows the unique needs of child DUI victims, and considers it an honor to fight on their behalf.
A Look at the Statistics
According to the National Highway Traffic Safety Administration's ("NHTSA") Traffic Safety Facts: Alcohol-Impaired Driving (2012 Data Sheet), a total of 10,322 people died in the United States during 2012 in a vehicle accident involving an alcohol-impaired driver. This figure, which includes crashes in which at least one driver has a blood alcohol level of 0.08 or higher, represents 31% of all traffic fatalities that year. There were 239 children aged 14 and under killed in alcohol-involved accidents in 2012, 20% of the total 1,168 young people killed in traffic crashes during 2012. More than half – 124 of the 239 – were occupants of the impaired driver's vehicle. Mothers Against Drunk Driving's Child Endangerment http://www.madd.org/laws/law-overview/DUI_Child_Endangerment_Overview.pdf position paper notes that a child riding with an impaired driver is at risk not only because of the hindered driver but also because the child is less likely to be properly restrained. In fatal crashes, 30.5% of sober drivers used child restraints compared to only 18% of alcohol-impaired drivers.
California's Vehicle Code and Penal Laws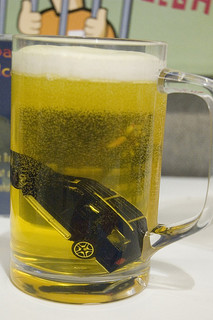 California Vehicle Code 23572 provides that a driver who is convicted of misdemeanor DUI and who had a child under age 14 in the vehicle is subject to a sentencing enhancement. This applies regardless of intent, level of intoxication, and driving pattern. The only relevant facts are that the driver was under the influence and a child was in the driver's vehicle. In some cases, courts have used the more general Child Endangerment Law (Penal Code 273a) to provide a harsher punishment in place of the sentencing enhancement.
A Law Firm for the Child Victim
Criminal laws penalize offenders, but the civil side of the justice system focuses more closely on the victim. Child DUI crash victims may face decades of repercussions including ongoing medical bills, reduced earning capacity, the continuing need for assistance with daily living tasks, and lasting emotional trauma. If someone else, including someone you entrusted with your child's care like a babysitter or nanny, drove while intoxicated with your minor child onboard and this terrible decision left your child injured or killed, call our San Francisco, Santa Rosa, or Oakland child injury law offices. Our civil law firm can help you and your child get critically important compensation.
See Related Blog Posts:
DUIs with Child Passengers
The Threat of Drunk Driving Deaths in California and Nationwide
(Image by Jørgen Schyberg)