Any accident that causes a serious injury or death is a tragedy. It is upsetting how an innocent victim can suffer severe consequences due to another driver's negligence. Despite serving as a San Francisco accident law firm for many years, there are still some cases that shock our team with the disregard shown for human lives. These cases in particular also lead our clients to ask us about the applicability of punitive damages in California injury cases.
Two Dead, One Seriously Injured in Collision After Gun Suspect Flees Police Stop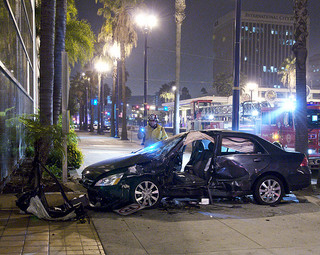 The first day of 2013 was marked by tragedy for a pedestrian and the occupants of a vehicle travelling in the Mission District. According to the San Francisco Chronicle, the incident began fifteen minutes prior to the ultimate collision when police responded to reports of gunshots fired from a vehicle at the Valencia Gardens housing project, located at 14th and Guerro streets. Shortly thereafter, police spotted and pulled over a black Chevrolet Impala matching witness descriptions of the suspect vehicle. As officers approached, the driver sped off, heading east on 21st Street and running two intersections before colliding with a white Toyota proceeding north on South Van Ness Avenue. The impact caused the Toyota to spin into the intersection, hitting a pedestrian before landing in front of a liquor shop.
Witnesses described the accident as resembling an explosion that shook local buildings. Debris from the collision was strewn thirty feet down the roadway. The male pedestrian, twenty-six year old Francisco Gutierrez of San Francisco, and the Toyota's passenger, identified only as a woman in her 20s, were both pronounced dead at the scene. Emergency responders transported the driver of the Toyota to San Francisco General Hospital with life-threatening injuries. Police declined to identify the driver of the Impala but said the suspect was a male in his mid-twenties and was known to law enforcement. He was taken into custody and taken to the hospital for treatment of minor injuries. The crash is still under investigation. A gun was found in the suspect's car and police report the Gang Task Force is part of the investigation. Police Chief Greg Suhr emphasized to reporters that police did not have the opportunity to even begin a pursuit after the suspect fled the initial traffic stop.
Punitive Damages in California Injury Cases
As a victim's law firm, we believe that all driver negligence is a serious problem. Some incidents, however, involve more than simple negligence. In such cases, victims often ask about the potential for punitive damages. While most damages available in civil personal injury cases are designed to compensate the victim, punitive damages are intended to punish a wrongdoer. In addition to punishment, the imposition of punitive damages is justified by the goal of preventing or deterring the defendant from similar actions in the future and setting an example to show others that they will pay a high price if they engage in similar behavior. Punitive damages are also referred to as "exemplary damages."
Punitive damages are, as per California Civil Code Section 3294, reserved for the most serious cases and require proof that the defendant acted with malice or was guilty of oppression or fraud. In this context, malice is defined as conduct intended to cause injury to another or despicable conduct done with conscious, willful disregard of others' rights or safety. Proof of these factors must be "clear and convincing," a higher standard than is typically required in civil injury cases.
Most injury cases in California do not qualify for punitive damages. However, some defendants show such conscious disregard for safety or even outright malice that the court will be willing to impose these additional damages. These are often the cases that shock and disturb the community. In some circumstances, California courts are also willing to impose punitive damages against drunk drivers.
Our San Francisco personal injury law firm helps our clients pursue all available damages. We specialize in helping victims who have suffered serious injuries recover the money necessary to moving forward after tragedy. We also believe in making sure justice is served and will not hesitate to seek punitive damage under appropriate circumstances.
See Related Blog Posts:
The "Eggshell Plaintiff" Rule in San Francisco Injury Lawsuits
Guilty Plea in Fatal Hit-And-Run: The Aftermath of a Pedestrian Fatality