Try to remember when you first started driving. If you were like many people, merging onto a high-speed road was one of the most frightening tasks. While it hopefully gets easier over the years, navigating both on-ramps and off-ramps remains a complicated chore. A multitude of differences in road arrangements and the fact that entering and exiting high-speed roads often involves close interaction with other (sadly, often unreliable) motorists raises the risk for on- and off-ramp accidents. When another motorist's actions contribute to a crash that causes injuries or even death, our San Francisco ramp crash lawyer can help represent the victims in civil court.
One Dead, Two Injured When Vehicle Crashes into I-80W Exit Ramp Wall
A Saturday night turned tragic with an accident that left one dead and two injured, a single-vehicle collision covered by the news team at KGO-TV San Francisco's ABC 7. At approximately 10:05 P.M., California Highway Patrol officers were called to the Fifth Street off-ramp for Interstate Highway 80 West in San Francisco where a vehicle had crashed into the ramp's wall. Officer Peter Van Eckert reported that there were three people inside the vehicle at the time of impact. When emergency crews arrived, one passenger was not breathing and CPR had been administered. Although that victim was taken to an area hospital, the individual was later pronounced dead. Van Eckert indicated that the two other occupants of the vehicle suffered injuries but he could not comment on their condition. The CHP closed the ramp until about 11:10 P.M. to investigate but did not provide any further details on the incident.
Study Examines the Types and Causes of Interstate Ramp Crashes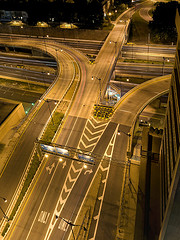 Researchers with the Insurance Institutes for Highway Safety published a study in 2004 focusing on crashes occurring on ramps entering and exiting urban interstates, specifically located Northern Virginia (abstract online via National Institutes for Health). It examined where at-fault drivers were when ramp crashes occurred, the types of crashes involved, and key factors that contributed to the crashes. The study was motivated by the fact that a far greater number of crashes occur per mile driven on freeway on- and off-ramp interchanges than on other portions of the interstate highways.
Researchers found that about half of ramp crashes involved at-fault drivers who were exiting interstates, 36% of ramp accidents involved at-fault drivers entering the interstate, and about 16% involved ramps and access roads that connected two freeways. The most common type of crashes on exit ramps involved a vehicle running off the road, while entrance ramps saw more rear-end and sideswipe/cutoff crashes. Crashes that happened on ramp margins (i.e. the point where ramps and roads connect) tended to be sideswipe/cutoff incidents and often involved an at-fault passenger vehicle merging onto a freeway and into the side of a large truck already travelling on the freeway.
Run-off-road crashes occurred most often at night, in bad weather, and at curved points on ramps. Speed was also a common factor. Access roads most often saw rear-end accidents and congestion was a significant factor. Alcohol was involved in 30% of run-off-road crashes on ramp margins and 14% of run-off crashes on ramps.
Representing Californians Injured When Drivers Fail to Exercise Care on Freeway Ramps
Navigating on- and off-ramps requires particular care. If someone else failed to use proper care on a ramp and caused an accident that left you or someone you love injured, or claimed the life of a relative, please call our office. Attorney Brod has experience serving as a lawyer for San Francisco highway ramp crash victims and can help you recover compensation. There is no charge for an initial consultation and most cases are handled on a contingency fee so you only pay if you recover money damages.
See Related Blog Posts:
Chronicle Highlights Dangerous Roadway in San Francisco's Potrero Hill Neighborhood
Recent Car Accidents in San Francisco are a Reminder of the Most Common Causes of Crashes
(Photo by Curtis Gregory Perry)