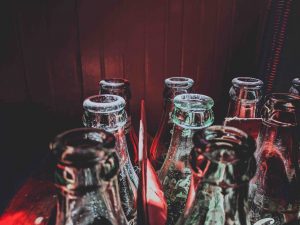 Energy drinks are popular in the U.S., and many brands have been developed or grown in response to eSports, or multiplayer video game competitions. During these types of competitions, where there are numerous players and fans attempting to stay awake and alert for long periods of time, many are eager to ingest energy drinks, like G Fuel. However, there have always been questions regarding the safety of these energy drinks. Now, the Environmental Research Center (ERC), a non-profit in California, is suing Gamma Enterprises, LLC, which does business as Gamma Labs, for there being too much lead in G Fuel.
California Law on Dangerous Chemicals
Proposition 65, which was voted into law in 1986, requires the state to publish a list of chemicals it knows to cause birth defects, reproductive harm, and/or cancer. The list is updated every year, and as of December 2017, there are approaching 1,000 chemicals on the list.
Prop 65 also requires businesses to provide clear and reasonable warnings on products that may expose people to a chemical on the list, unless exposure is so low as to not pose a risk of reproductive harm, birth defects, or cancer. However, if the amount of chemical in the product is higher than lawful amount that has been deemed to cause no significant risk, then consumers need to be warned about the dangers of using or ingesting the product.
G Fuel May Contain Dangerous Amounts of Lead
The ERC claims numerous varieties of the energy drink G Fuel contain too much lead in violation of Prop 65 and that the product does not contain any warnings about the potentially dangerous ingredient. There have been no allegations that any consumers have been harmed due to the product.
The ERC filed a 60-Day Notice of Proposition Violation in August 2017, giving Gamma Labs the opportunity to contest the claim or resolve the issue by adding a warning to their products. Gamma Labs did not respond, and in November 2017, ERC filed for Injunctive Relief and Civil Penalties, asking the court to force Gamma Labs to stop making, marketing, or selling G Fuel without a clear and reasonable warning regarding the cancer risk and asking the court to require Gamma Labs to pay civil fines for the Prop 65 violation.
The CEO of Gamma Labs responded in February 2018 that the amount of lead in G Fuel is well below the U.S. Food and Drug Administration's limits and that California law is much stricter on when warnings are necessary. The FDA's daily limit for lead is 75.0 micrograms while California's Prop 65 limit is 0.5 micrograms.
Have You Been Diagnosed With Lead Poisoning?
Being exposed to too much lead through a variety of products or older housing can cause dangerous levels of lead to build up in your body. If you or your child were diagnosed with lead poisoning and you believe it may be from a product you consistently use, drink, or eat, or where you live, then you should contact an experienced attorney at Brod Law Firm. If there is evidence that your lead poisoning was caused by a food or beverage, you may have a product liability claim against the manufacturer.
To learn more about your legal rights and options after lead poisoning, call Brod Law Firm at (800) 427-7020 to schedule a consultation.
(image courtesy of Drew Taylor)