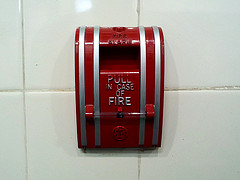 We learn about fire safety from a young age, but it is knowledge none of us ever expect to need. Imagine how frightening it would be to face a significant fire in your home. Imagine how much that fear would escalate if safety devices malfunctioned, leaving you trapped by a fire that grew while a smoke alarm stayed silent or unable to escape because a fire exit was blocked or otherwise inaccessible. This scenario is all too real and far too common. Our San Francisco tenant's fire injury attorney helps when rental unit fires stem from a landlord's failure to maintain a safe living environment.
Mission District Apartment Fire Kills One and Injures Six
Fire fears became a reality for residents of one Mission District building last week. According to the San Francisco Chronicle, a fire broke out at a three-story multi-use building at 22nd and Mission around 6:45 PM on January 29. The four-alarm blaze killed one resident and injured six people, including a firefighter. It left 54 people homeless and also caused damage to retail and office spaces. Investigators have yet to pinpoint a cause, although the building's owner suggested a faulty microwave sparked the fire.
Fire officials are also looking into claims that fire alarms failed and that fire escapes were either blocked or locked. Residents paint a terrifying scene, with one woman saying she and her daughter had to wait for rescuers after they were unable to remove bars on the window leading to a fire escape. Other residents reported that staircases on external fire escapes were locked. Several added that they did not hear any fire alarms sound. The building's owner disputes these claims, noting that within the previous year a fire inspector certified that alarms and fire extinguishers were in working order. In contrast, one resident said that the owner had placed locks on hallway fire escapes about a year ago as a way to deter vandals. Investigators have not yet determined whether the owner bears fault in this case.
The Law on Habitability & Fire Safety
California's Department of Consumer Affairs provides a guide to the legal responsibilities of both tenants and landlords in the state. The guide cites Civil Code section 1941 which requires all properties offered to residential renters must be in a habitable condition. Generally, a habitable unit is one that is fit for people to live in and the landlord must repair any problems that render a unit unfit for use as a dwelling. While this is a general and broad concept, the code includes a number of specific requirements including: "Safe fire or emergency exits leading to a street or hallway. Stairs, hallways and exits must be kept litter free. Storage areas, garages, and basements must be kept free of combustible materials." Additionally, the code requires working smoke detectors be placed in every unit of multi-unit buildings as well as in common stairwells.
Civil Claims Against Landlords for Fire Injuries
If you are injured in a fire at a rented residential unit, you may have a civil claim against your landlord. In most cases, you will need to show that your landlord's negligence led directly to your injuries. This can include negligence that led the blaze to begin (ex. not repairing faulty wiring), negligence that allowed the blaze to expand and grow (ex. not having smoke detectors in each unit), or negligence that resulted in the blaze causing harm (ex. not having sufficient exit routes). Proving negligence requires showing the landlord knew or should have known about the dangerous condition. There are two cases in which a tenant would not have to show negligence. The law presumes negligence where the landlord violated a statute/regulation ("negligence per se") or where the fire originated in an area that is under the landlord's sole use/control (an inference of negligence pursuant to a doctrine called "