They blend into the everyday hubbub on streets throughout America, fitting in seamlessly because they visit most of our homes on a weekly basis.  This normalcy makes it easy to forget that they are actually powerful, heavy-duty vehicles.  Our Oakland truck accident lawyer knows that garbage truck accidents are a problem few of us ever consider – until it happens in our neighborhood or until an accident impacts someone we love.
Officials Investigate Garbage Truck Accident in Orinda, CA
A garbage truck accident in Orinda on Tuesday left many feeling grateful that the outcome wasn't more tragic.  The Oakland Tribune reports that a garbage worker was preparing a bin for loading on Los Ceros just before 8 A.M. when the truck began to roll backwards down a hill towards the busy Moraga Way.  The worker gave chase and tried to jump into the driver's seat but wasn't able to hold on and eventually leapt off the truck.  After colliding with a single car, the truck came to a stop.  Both the worker and the car's driver were hospitalized but officials say they expect both people to recover fully.  Local police chief Mark Nagel remarked that it is amazing the consequences weren't more severe.  An investigation is ongoing to determine why the truck began to roll.
Recent Garbage Truck Accidents Show the Seriousness of a Far-Too-Common Threat
One community in Washington State is far too familiar with garbage truck accidents.  Last month, an NBC affiliate reported that Richland, WA saw two frightening garbage truck accidents in just a few short weeks.  In the first incident, brake failure caused a garbage truck to roll into a house.  In the latter case, a packed truck weighing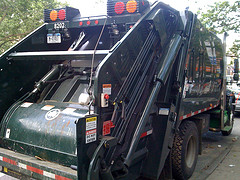 some 600,000 pounds was headed to the dump when it veered off the road and into a wall.  The driver was injured, but the local Public Works Director suggested he was lucky to be alive.
Garbage truck accidents can have much more dire results.  In May, The Times-Herald Record reported that a garbage truck in New York state veered into opposing traffic and slammed head-on into a school bus, hospitalizing a garbage worker and killing the bus driver who had just dropped a busload of children at a local school.  In March, a homeless man was killed in Allentown, PA when he was trapped in the back of a garbage truck.  Per 6ABC, he was buried beneath refuse and became caught in the trash compactor.  The same month and one hour away in Hazle Township, PA, a garbage worker was seriously injured when he was thrown through a truck's windshield in a collision.  Per The Morning Call, the refuse vehicle ran then ran over the man and dragged him 41 feet.
A Dangerous Occupation
According to a March 2013 article on HealthDay.com,  garbage collecting is one of the most dangerous jobs nationwide.  Two-thirds of the 450 refuse worker killed during trash collection in the U.S. from 1980 to 1992 died in vehicle-related events.  The article suggests this situation has not improved, citing a 2007 government report that found a fatality rate of 22 per 100,000 refuse workers, one of the highest for any occupation.  Studies also found a high rate of injury among refuse workers.
Representing Workers and Bystanders Injured in Refuse Truck Accidents
Garbage truck accidents can be serious, even deadly, and impact workers and bystanders alike.  These accidents often have unique characteristics and may be tied to problems in vehicle design, worker negligence, and/or dangerous company policy.  Civil injury and wrongful death lawsuits can help uncover these root causes.  Importantly, refuse collection companies are often deemed accountable for the actions of their workers and for problems with company vehicles.  One complicating factor is whether the trash collection organization is public or private as cases involving public entities involve unique issues of sovereign immunity.
Our firm has decades of injury law experience in California including cases involving public entities, vehicle malfunction, and employer liability for worker negligence.  If a Northern California garbage collection accident leaves you injured or claims the life of a relative, call our Oakland truck crash attorney.  You may be entitled to compensation and your case may help prevent future tragedies.
See Related Blog Posts:
Back to the Basics – Accidents and Employer Liability
Commercial Truck Accidents and Legal Liability: Who's Responsible When Trucks Cause Injuries?
(Image by Salim Virji)