Bicycling can provide a sense of freedom to people of all ages.  For the young, bikes expand the world, affording their rider a sense of independence.  For adults, riding evokes that feeling and also provides freedom from the expenses and hassles associated with driving, especially in urban areas.  Sadly, this freedom is sharply limited by the reality of bicycle fatalities.  Our San Jose bicycle accident law firm was saddened to learn of two deadly bicycle accidents separated by only three days and a seven mile stretch of road.
Three Days, Seven Miles, Two Fatal Bicycle Accidents
According to a report in The Los Altos Town Crier,  63-year-old Palo Alto resident Eric Palmquist was hit by a car while riding a bicycle on Friday July 10.  He died six days later.  Police believe he was riding west on El Camino Real when he was struck by a Honda Civic travelling north on San Antonio Road.  Palmquist was thrown onto the pavement and suffered a fatal head injury.  He was not wearing a helmet.  The driver of the Civic was not hurt and is cooperating with the ongoing investigation.
While Palmquist was fighting to stay alive, a second bicycle accident occurred along El Camino Real, approximately 7 miles away in Sunnyvale.  The San Jose Mercury News reports that a 12-year-old boy was riding across the intersection of El Camino Real and Henderson Avenue when he was struck by a car just before 10 P.M. on Monday July 13.  He passed away two days later.  Police say the initial investigation suggests the boy was crossing against a red light.
Bicycle Crashes — General Statistics
In May, the National Highway Traffic Safety Administration ("NHTSA") released a Traffic Safety Facts sheet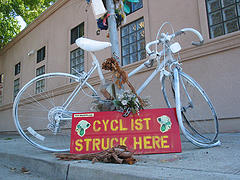 examining bicycle accidents involving motor vehicles in 2013 (Note: References to "bicyclist deaths/injuries,"  "motor vehicle accidents/crashes," and "traffic accidents/crashes" refer to bicycle accidents involving at least one motor vehicle on public property).  Per the NHTSA, 743 cyclists were killed and approximately 48,000 injured in motor vehicle accidents during 2013.  The fatality figure represents a 1% increase over the prior year.  This was the third straight increase in rider deaths, amounting to a worrisome 19% increase since 2010.
California saw 141 bicyclist deaths in traffic accidents in 2013, more than any other state.  Taking population into account, California was the third deadliest state for riders with 3.68 bicyclist traffic crash deaths per million population, exceeded only by Arizona (4.68 rate, 31 deaths) and Florida (a whopping 6.80 rate, 133 deaths).  Nationwide, the rate was 2.35 bicycle fatalities per million people.
Bicycle Crashes – "Who?" and "How?"
Although women outnumber men nationwide, men were heavily overrepresented in bicycle accidents.  Men made up 83% of riders injured in motor vehicle accidents and 87% of those killed.  The average age for bicyclists killed in traffic crashes 2013 was 44 while the average age for injuries was 32. Both ages rose steadily between 2004 and 2013.
The NHTSA report also provides some insight into the nature of bicycle traffic accidents.  Urban areas saw more bicyclist fatalities than rural areas (68% to 32%) and a majority of traffic crashes that led to a bicyclist's death happened in non-intersection locations (57%).  The peak time frame for deadly traffic crashes was between 3 P.M. and midnight when 56% of the fatal accidents occurred.
A Bicyclist's Law Firm in Northern California
Our hearts go out to the families of the bicyclists killed in the recent bicycle accidents on El Camino Real.  Two fatal bicycle accidents in less than a week's span, seven miles apart on the same roadway, cannot and should not go unnoticed.  Regardless of who was at fault in these particular bicycle tragedies, many and perhaps most bicycle accidents stem from driver negligence.  Drivers must be attentive to all travelers and must not forget just how powerful a motor vehicle is in contrast to a bicycle.  We highly recommend all bicycle riders wear helmets every time they ride, but even a helmeted rider is virtually unprotected from a multi-ton car, truck, or SUV.
If you were injured or lost a family member in a bicycle accident caused by a negligent driver in Northern California, call to schedule a no-cost, no-obligation consultation with our Bay Area bicycle attorney.  With decades of legal experience and as a member of multiple bicyclist organizations, Greg Brod is ready to represent you and fight for the compensation you deserve.
See Related Blog Posts:
Bicycle Safety in San Francisco
Some Things Change, Some Stay the Same: Bicycle Accidents & Rider Fatalities Over the Years
(Image by Sebastien Paquet)