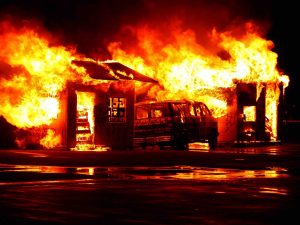 In October of 2016, a fire broke out in a warehouse in Oakland, California. The warehouse, known as Ghost Ship, had been converted into an artist collective and was illegally home to numerous people. At the time of the fire, the warehouse was hosting a concert with about 50 guests. 36 people were killed. Now, two tenants of the warehouse have been arrested and charged with crimes in relation to the fire.
The Ghost Ship Warehouse Fire
Investigators could not determine the exact cause of the fire, which began on the first floor at around 11:20 p.m., however it is speculated that it may have begun with an electrical appliance. Investigators could pinpoint numerous factors that led to the significant number of fatalities. The warehouse did not have smoke detectors or any fire suppression system, like sprinklers. There were only two stairways in the warehouse and neither led to a direct exit out of the building. One of the stairways was built from stacked wooden pallets, which meant it likely began to burn while visitors and residents were attempting to escape. Additionally, because the dwellings within the warehouse were homemade out of random materials and were not organized with straight hallways, it was difficult for visitors to navigate the warehouse and find an exit.
Ghost Ship Tenants Charged
In June, Alameda County District Attorney Nancy O'Malley announced she filed charges against Ghost Ship tenants Derick Almena, who was considered the master tenant, and Max Harris. O'Malley stated that the two individuals "knowingly created a fire trap with inadequate means of escape" and now face charges for their actions.
Both Almena and Harris face 36 charges of involuntary manslaughter – one for every victim of the fire. Under California law, involuntary manslaughter is the unlawful killing of a human being, without malice, in the commission of an unlawful act that is not a felony or in the commission of a legal act in a criminally negligent manner. An individual acts in a criminally negligent way when he or she acts recklessly and creates a high risk of death or serious bodily injury.
These are felony charges punishable by one year in a county jail or up to four years in state prison, fines, restitutions, probation, and more per count. Since both tenants face dozens of counts of involuntary manslaughter, they could face decades in state prison.
Tenants Should Not Turn to Unlawful Units
The tragedy of the Ghost Ship warehouse fire is a reminder that tenants have a right to safe housing, even in crowded and expensive markets like those in California. Individuals renting apartment units or homes in California should be aware of their rights, particularly in regard to the fire code and safety features of their buildings. If a tenant resides in a lawful rental unit yet the landlord is not complying with all safety, health, and rental ordinances, then he or she should contact an experienced tenants' rights attorney to learn about his or her rights and legal options.
Tenants who believe their landlords are not obeying the law should contact Brod Law Firm at (800) 427-7020 to schedule a free consultation.
(image courtesy of Dawn Armfield)