During the summer months, people all over the United States love to head out to country clubs and outdoor shows to enjoy sport, entertainment and leisure. Whether driving down the golf course, or swinging through a rodeo, one of the most favored and convenient form of outdoor transportation is the simple golf cart. What many people forget is that golf carts can be as dangerous as street-legal automobiles, and they must pay attention to the rules of the road, the gas and the brakes. Unfortunately, golf cart accidents happen far too often during the summer months, and this year is no exception. Two recent cases of tragic golf car accidents demonstrate the severity of golf car crashes, and the appropriateness of personal injury and product liability actions in some incidences.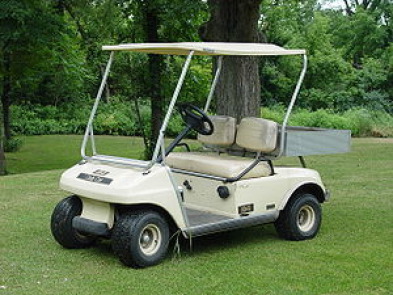 The first tragic golf cart accident reported on this week occurred far from the borders of San Francisco, in Hilton Head, South Carolina. According to islandpacket.com, 77-year-old Don Lorber was celebrating his 52nd wedding anniversary last month in Sun City Hilton Head when a horrific accident occurred. Mr. Lorber was driving a golf cart within the community when the cart strayed from the road and struck a car's bumper and a tree in a community resident's yard. On August 5, 2013, Mr. Lorber died from a blow to his head suffered during the crash.
Unfortunately, few details about Mr. Lorber's accident have emerged, and it is unclear whether faulty brakes, operator error, or freak accident caused the cart to veer off of the road. Mr. Lorber's wife noted that she does not want to second-guess what caused the accident because no matter what, her husband has passed. Ms. Lorber did, however, comment that she hopes the accident teaches people to wear seatbelts while driving golf carts.
The second accident, reported by ABC Local, out of Houston, was one that ended in severe injury to the driver, and a product liability lawsuit. Bonnie Herndon volunteered for the rodeo for thirty years before she was horrifically injured in a golf cart accident at the Houston Livestock Show and Rodeo in February of this year. Ms. Herndon was allegedly thrown from a golf cart while attending a Toby Keith concert, and suffered severe head injuries. Ms. Herndon has remained in a coma since the accident, and has accumulated medical bills in the amount of half a million dollars. Ms. Herndon's family filed suit this week on her behalf, on personal injury and product liability claims.
The civil suit was filed against the Houston Livestock Show and Rodeo, a rodeo volunteer and several different golf cart companies. Ms. Herndon's attorney notes that the driver of the golf cart should have been trained and that the golf cart itself lacked safety features. Ms. Herndon's attorney believes that the golf cart industry standards are the best evidence against the golf cart maker-that is, that industry standards are inadequate. For example, the golf cart in which Ms. Herndon rode did not have seatbelts or handles for safety.
The success of Ms. Herndon's product liability claims will be something to watch as the civil litigation process commences. Ms. Herndon and Mr. Lorber's cases show that golf carts can be dangerous, especially when they lack proper safety features. If you or someone you know has been injured by a faulty product, or a product lacking proper safety features, you should immediately seek out the assistance of an experienced attorney. The attorneys at Brod Law Firm have years of experience in product liability and personal injury law. The attorneys at Broad Law Firm can help you seek justice for your injuries and get compensation to help you heal emotionally and financially after a serious and traumatic injury.
See Related Blog Posts:
When Fireworks Turn Tragic: Defective Products Law and Other Protections for Fireworks Victims
Trial Opens In Suit Against Paint Manufacturers, Cities Seek Removal of Lead Paint From 5 Million Homes